It is the habit of some journalists to first report something controversial or pessimistic rather than report good practices and events, and often such journalism is considered smart or investigative journalism, University Grants Commission (UGC) Chairman Prof. Gamini Samaranayake said.
Speaking at the convocation of the Year 2008 batch of the Sri Lanka College of Journalism (SLCJ), where Prof. Samaranayake was the chief guest, he said it was a pity that some journalists without adequate training adopt unethical codes of practice that would make them a group of people not entertained with goodwill."I strongly believe that it is the duty and responsibility of your learned and esteemed institute to inculcate and promote a group of professional journalists who would be the watchdog of democracy at large and perform the noble duty of informing the truth without bias," he told the gathering.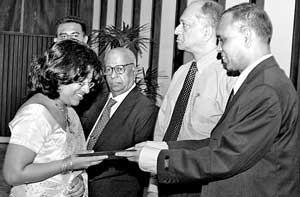 Thulasi Muttulingam receives her diploma in journalism certificate from the chief guest Prof. Samaranayake. SLPI chairman Kumar Nadesan and Journalism College acting director P. Balasingham are also in the picture. Pic. by Athula Devapriya
The convocation ceremony was held at the BMICH on Wednesday where SLCJ students who completed their course in the Sinhala, English and Tamil languages under Print, Television and Radio media were awarded their Diploma certificates.
Prof. Samaranayake said that this was a notable achievement of the Sri Lanka Press Institute (SLPI) since journalism depends on formalised professional training through a recognised professional body. The SLCJ is affiliated to the SLPI and the Editors' Guild among others.
"Today we are in turmoil on the issue relating to journalism and journalists. On the whole journalism is a respected and a noble profession which suits a person with investigative competencies along with communication skills with a rational and independent mind. It is up to the journalists to maintain their dignity and impartially present facts.
Such competencies to be developed in a journalist cannot be expected to occur overnight, neither by having communication skills nor a place to report, but it entirely depends on a formalised professional training through a recognised professional body. The latter aspect has been adequately addressed by your institution and the associated professional organisations," he said.
SLPI Chairman Kumar Nadesan addressing the convocation said that journalists should be watchdogs of democracy and should stand up for truth and justice.
"Journalists should also uphold responsibility and accountability," he said. SLPI Director General Ranga Kalansuriya said the Institute has been lobbying for getting recognition for journalism as a profession and to have a degree course in journalism.
Sri Lanka College of Journalism Acting Director P.Balasingham delivered the welcome address.