The Tamil National Alliance (TNA), hitherto sympathetic towards the Liberation Tigers of Tamil Eelam (LTTE) is set to undergo major changes with some of the Members of Parliament already in the process of settling in foreign countries and others set to return to their original electoral bases in the north and east to continue moderate politics.
The Sunday Times learns that at least six TNA MPs who have been openly campaigning for the LTTE have settled in London and a few more members in the process of doing so, party sources said.
The members who have settled in London are S. Jeyanandmoorthy, P. Ariyanethiran, Thangeswari Kathiraman (All from the Batticaloa district), Padmini Sithamparanathan and Selvarajah Kajendra (from the Jaffna district) and Vino Noharathalingam (from the Wanni).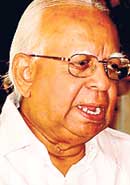 Sampanthan
All these members had figured prominently in campaigns of the LTTE in European countries with some of them spending more time in foreign countries than in their own electorates, the party sources said.
One of the MPs from the Batticaloa district had visited 16 countries last year, but failed to visit his electorate during the past four years, they said.
However, three of the veteran TNA Parliamentarians, R..Sampanthan, Mavai Senathiraja and K. Thurairathnasingham are re-establishing their positions in the original electoral bases in Trincomalee and Jaffna in a bid to revamp their party activities.
Mr. Sampanthan and Mr. Thurairathanasingham are based in Trincomalee while Mr. Senathiraja is from Jaffna. All of them are members of the moderate Tamil Untied Liberation Front (TULF) which was virtually forced by the LTTE to contest under the TNA at the last parliamentary elections in 2004.
The Sunday Times learns that the government is backing the move for the return of moderate politicians with the aim of restoring political administration in the north, following the military successes.
At present, only the EPDP, which also has its military wing, has a strong base in the north. Last week Mr. Sampanthan told our sister paper Sunday Lankadeepa that the LTTE was not important.
"The LTTE is not important. We are not worried about its victory or defeat. We don't have any link with the organisation," he said. In a related development, a hartal campaign called by two TNA MPs in the north and the east to protest over the plight of the civilians in the Wanni on Friday was abandoned suddenly, prompting another TNA MP to make an announcement that the campaign has been cancelled.
The Sunday Times learns that the two TNA MPs who called for the hartal had not consulted the TNA leadership before making the announcement.