If during the past two years you had been sitting in the Royal Opera House, Covent Garden, waiting with rising anticipation as its famously plush red velvet curtains peeled slowly back to reveal its huge 45 sq. ft.stage, you would have been witnessing a bit of Sri Lankan musical history in the making. In 2006, Kishani Jayasinghe became the first Sri Lankan singer ever to perform on the main stage of the premier opera house of the Western world.
A show not to miss
Sri Lankan fans can see Kishani in concert when she performs in aid of the Sunera Foundation in Colombo on January 9, 2009 at the Lionel Wendt theatre.
Kishani was one of only four singers selected from hundreds of applicants worldwide to be part of the ROH's Jette Parker Young Artists Programme. For two years, the Young Artists form part of an elite group of musicians who are trained to take part in the ROH's productions, usually in the minor principal parts, but also understudying the principal roles.
Kishani made her Royal Opera debut as Chloë in "The Queen of Spades" and in the 2006 and 2007 seasons also played Ines in "Il Trovatore", Gianetta in "L'elisir d'amore", Flowermaiden in "Parsifal", Papagena in "The Magic Flute" and Barbarina in "The Marriage of Figaro". In addition, she covered the roles of Adina ("L'elisir d'amore"), Pamina ("The Magic Flute"), Lauretta ("Gianni Schicchi"), Zerlina ("Don Giovanni"), Echo ("Ariadne auf Naxos") and Susanna ("The Marriage of Figaro"). She has appeared in productions alongside such international singers as Bryn Terfel, Anna Netrebko, Jose Cura, Willard White and Barbara Frittoli.
This is a staggering achievement for anyone, let alone someone from a country where exposure to Western opera is confined to a tiny minority of the population. It is even more staggering when you learn that Kishani did not even consider a career in opera until the comparatively advanced age of 22, when she was enrolled in an LLM programme at Nottingham University. (This is surely another first for the Guinness Book of Records – I suspect not many legally trained sopranos have trodden the boards of the ROH!)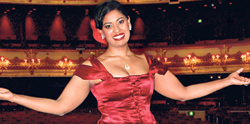 Kishani after the JPYA summer concert in 2007 in a dress designed especially for the occasion by Gavin Douglas, winner of the 2005 Fashion Fringe Award and a necklace designed by Jessica McCormack.
It took me about a year to pin down this striking, confident (and very busy) young woman, to ask how a largely home-grown talent from our small island found herself performing alongside such stars of the operatic firmament.
We could begin the story in 2002, when she was about to take up a scholarship at the Royal Academy of Music, or we could "begin at the very beginning, a very good place to start…." And quite appropriately, "The Sound of Music" was the start of it all for Kishani. Says she: "I must have watched that video about 40 times, from the time I was five years old! I wanted to watch it every day if I could – and in fact I still love it." She could soon sing all the songs from memory. Her family realized that she had a good ear and natural sense of pitch and sent her to the well-known singing teacher Mary Anne David.
But Kishani also has a very unusual family background. Many middle-class Sri Lankans sing or play instruments – but not many have Maria Callas or Mozart's 40th playing in the background. "Both my parents came from musical backgrounds. On my mother's side they loved opera: my maternal grandmother and grand-uncles and my uncle all sang, and when I went to visit I would hear all the great tenors and sopranos. On my father's side they were more into orchestral music: my paternal grandmother was in the Symphony Orchestra of Colombo. My father and his siblings had a little classical quartet. While other kids went to parties, my brother and I were taken to orchestral concerts – and we grew up thinking it was quite normal!"
"But though I loved singing, I never treated it as anything but fun. I led a very full life and took part in all kinds of activities. My parents encouraged us to do everything – music, sports and drama, as well as our studies." This is a girl who was Head Girl of Visakha Vidyalaya (1996), captain of the school tennis and debating teams, leader of the choir, President of the UN Association – and about six other school societies, did ballet, drama - and in case you're breathless by now, wait for this: was National Women's Rowing Champion for three years, aged 14-16!!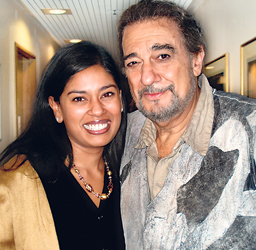 Kishani with Placido Domingo at the ROH
How on earth did she fit it all in? "It was never an issue," she said, smiling. "All my life, I've done a million things at the same time, which I think has stood me in good stead, in terms of discipline, teamwork and getting on with other people. I remember once rushing from school to the National Rowing Championships, where my partner and I were in two events at 4.30 and 5.30, then rushing to the Lionel Wendt, where I was appearing in one of Mary Anne's shows, to be there by 6.30. My mother had got my dress ready, I changed in the car on the way there (as I seem to have done quite frequently). When I got there someone did my hair and someone else did my make -up, in five minutes flat - and then – boom – I was on!" And what happened at the Rowing Championships? "Oh, we won both our events."
Music, however, did carry on as a constant thread in Kishani's life. When she was fifteen, realizing her potential, Mary Anne started to do more intensive work with her. In 1995 Kishani won the Concerto Competition organized by the Symphony Orchestra of Colombo. She made her debut with the Symphony Orchestra at the tender age of 16, singing Mozart's "Exsultate Jubilate".
At about the same time, Kishani also won the Young Musician of the Year competition organized by Rohan Joseph de Saram and the Philharmonic Orchestra, in both the Broadway and Classical categories. Kishani still remembers what a frantic rush it was to choose her pieces and prepare them with Mary Anne. "We worked like crazy, but I quite enjoyed the kick of having a deadline. I think I'm quite competitive and enjoy trying to excel. It was never a question of being pushed to do anything."
Though she admits to harbouring a secret dream that she might one day be a singer, Kishani did not really think it would happen. She carried on with her studies, came to the UK for a LLB at Nottingham, and it was there, in the course of a summer music festival that her talent was spotted by the Director of London's Guildhall School of Music, who gave her the name of a music teacher with whom to pursue her singing studies further.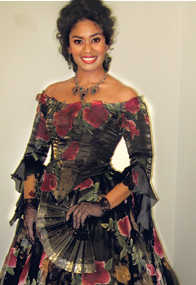 As Ines in Il Trovatore in 2007
This was probably the life-changing moment for Kishani, for it was this very experienced teacher, Pamela Cook, who indicated that she might take singing seriously as a career. After four months of preparation with Pamela, Kishani auditioned for the Royal Academy of Music, and in December 2001 won a scholarship to go straight into its postgraduate programme. Kishani being Kishani, she had concurrently enrolled to do an LLM at Nottingham, which she completed in summer 2002, just in time to start at the Royal Academy. In her four years there she completed a two-year vocal programme and a two-year opera progamme, studying with, amongst others, Jonathan Papp, Audrey Hyland and Noelle Barker. In her final year she was urged her to apply to the Royal Opera House's Young Artists Programme, though still relatively young. And of course, being Kishani, she was successful in this, as in every other enterprise.
"At the final round there were 13 singers from different countries: France, Germany, Canada, America. I didn't really think I had a chance, but I thought, oh well, now that I'm here, I may as well give it my best shot."
"That night after the audition I was still on the train home when the ROH rang to tell me that I had been selected! I couldn't believe it! I called my parents; even though it was 3 a.m. in Sri Lanka, my entire family - aunts, uncles, everyone - was too excited to sleep. I just said "I'm in, I'm in!" and then my phone died! Later, because I still couldn't believe it, I called the ROH and asked: 'Is it true, or did I imagine it?' My professors at the Royal Academy were thrilled; no student before this had gone straight from the RAM to the Opera House." (Incidentally, Kishani was the only one of the seven sopranos to be selected.)
What was it like to arrive for work on a daily basis at those imposing neo-classical portals and walk those famous corridors? "It was absolutely amazing! I'm so lucky to have had the chance to be there and work with international stars. And they were all such lovely people, so easy to talk to and so normal! It was quite unreal to be walking about and just bump into, say, Placido Domingo, Juan Diego Florez or Renée Fleming!"
Getting into the Royal Opera House was a fantastic opportunity for Kishani, but also very hard work. During their two years, the 10-14 Young Artists have a packed weekly schedule of vocal coaching and lessons in other aspects of opera such as acting, movement, stage craft and languages. Kishani already speaks Italian, is studying French and hopes to learn German next (these are the three major languages of opera). So what's the next step? "Obviously, the goal of any serious opera singer is to sing the principal roles at major opera houses like the ROH, the Metropolitan Opera, La Scala, and so on. That would be my dream. But before you can do that you usually need a few years' experience in other companies. I'm now auditioning for the Welsh National Opera and the Scottish National Opera." Kishani has also just signed a contract with the prestigious Garsington Opera, to sing the Countess in "The Marriage of Figaro"in 2009-10.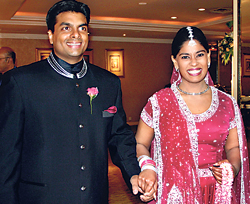 Kishani and Kaveenga on their wedding day
"Meanwhile you have to do recitals and concerts, enter competitions, and keep singing." In October Kishani gave a solo recital at the beautiful Crush Room of the Royal Opera House and a joint recital at the Wigmore Hall. Most recent of the numerous prizes she has won is the Arlene Auger Prize for the Most Accomplished All-round Singer in Opera, Lieder and Oratorio, at the International Vocal Competition held in Holland in September 2008. A month before that, she was awarded 2nd Prize in the Leyla Gencer Voice Competition in Istanbul.
The life of an opera singer involves hard work and constant travel. Kishani has to keep fit and healthy, work on her wardrobe appearance. She is very grateful to her first teacher, Mary Anne David, for drilling into her from a very early age the importance of being perfectly turned out. "In this business, unfortunately singing isn't always enough. The complete picture, the way you present yourself on (and off) the stage, is crucial. You have to be beautifully groomed at all times. I learned a lot about make-up and about the importance of "glamour" from my mother, who is a very glamorous lady." Kishani's mother, Melanie (nee Wijendra) is a former Miss Sri Lanka.
However, what most impresses one about Kishani, apart from her crisp intelligence and articulateness, is her highly professional and realistic approach to her career. "As I've said, every singer's ultimate goal would be to perform principal roles at the major opera houses. How long it takes depends on the roles you want to sing and your voice type. If you're a lighter soprano, more of a soubrette voice, you might get big roles younger. For example, you could sing Zerlina in "Don Giovanni" or the Maid in "Cosi fan Tutte" in your early to mid-twenties. If you're a lyric soprano like me, you would reach your peak in the 30s, and if you're a dramatic soprano, it would be in the 40s. Some roles – the Countess in "Figaro", Fiordiligi in "Cosi" or Mimi ("La Bohème") require more warmth and fullness in the voice and more experience to carry them off. These are the roles I dream of singing in a big opera house – especially Mimi, which has everything a role could ask, as far as I'm concerned – but I'm not ready for them yet."
I was curious to know what the career span of an opera singer was. "About 40 years! For example, Dame Kiri te Kanawa has just retired, but is still amazing to listen to. She has a timeless quality. The biggest compliment I've had in my career is to be compared to her by a reviewer, after I appeared in a performance of "Figaro" at the Opera House." Kishani has been to Dame Kiri for coaching and hopes to have more sessions with her in the near future).
There is another and equally amazing story to be told about Kishani: a romantic story spanning three continents. In 2005 – a fateful year – just before being accepted into the Young Artists Programe, she re-met a childhood friend and became engaged. She and Kaveenga Wijayasekara had been part of a group of friends in Sri Lanka but lost touch when his family migrated to Australia in 1998. They had only infrequent contact, until, on a visit to Colombo, mutual friends connived to put them together again – and in just five hours her fate was sealed!
The only problem was they lived thousands of miles apart. Yet, within two years, they had had a civil ceremony in Sydney, a poruwa ceremony in Colombo and Kaveenga had given up his job as a business analyst to move to London and work in the City. They had a fairytale wedding at the Hilton, with ten bridesmaids and four groomsmen! The groom flew in from Sydney, the bride flew in from London, in time to don her white and gold Italian silk saree (nothing had changed since the Lionel Wendt days), they honeymooned for a week and then flew apart to Sydney and London. They were separated for eighteen months, but, as you know, the story has a happy ending.
Kishani showed me a picture of her tall, good looking husband ("my movie star!") and there's absolutely no doubt who comes first in her life. "Not many Asian men would have given up everything – family, job – to come to London. He said his job was easier to move than mine – but if he had said that he couldn't do it, I would have given it all up for him. For me, he's Number One. Some people love the limelight and adulation that goes with a career but for me that's not enough. Family comes first."
Everything is in place for Kishani: superb performing pedigree, a huge talent, tremendous determination, a supportive family. It also takes a little bit of luck, so fingers crossed that one day we'll be sitting at the Royal Opera House, the programme in our hands will read: "La Bohème" and we'll be watching Kishani singing her dream role……