The uneven stone steps cut into the rock lead down to the modest little house where tragedy has laid its mark. An elderly man stands at the doorway, greeting visitors with trembling hands, his eyes blinded by grief. His only son has died a cruel and unnecessary death and he must now carry out the funeral rites for his beloved child, in the home where he was raised. Inside, a family grieves for the loss of a son, brother, husband – a doctor who might have been a gift to their community.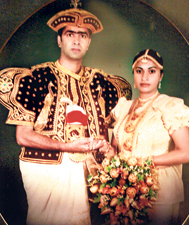 Their wedding portrait
It was here, in the rural village of Kotigepitiya in Kotmale that Dr. S.W. Palitha Pathmakumara, grew up with his parents and two younger sisters. He struggled against poverty and hardship to get an education, and hope for a better future for them all. His life as a physician was only just beginning at the age of 34, when he died last Sunday, November 17, shot by unknown gunmen in the Navatkadu Central Dispensary and Maternity Home, in Batticaloa where he was on duty.
"He is gone, turned into stone, and my heart is now a stone too," says his wife of two years, 28-year-old Chandrika Priyadarshanie. Numb with shock and anguish, she relates the events of that terrible night when her life crumbled before her eyes. "It was just an ordinary night," she recalls, "we'd just had dinner, showered and were preparing to sleep when we heard a knock at the door of the duty room and someone calling for my husband. It was about 9.15 p.m." Thinking they recognised the voice of the security guard, they opened the door to find two armed strangers standing there. Telling Chandrika to stay inside, they had asked Dr. Pathmakumara to accompany them.
"They were very calm and composed – we had no idea what their intention was," she says. "My husband adjusted his sarong, and went with them – he went so innocently." Moments later she heard gunshots and flew outside calling for her husband. Stumbling in the darkness, she found him lying on the ground in a pool of blood.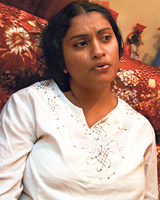 Wife Chandrika
"I was alone – all alone," she cries. She ran from one person to the other in the hospital, but no one helped her she says, either afraid for their own safety or not caring to intervene. Finally, she called the STF, who arrived after some time and took the body to the hospital. "He was looking at me, he was smiling – how could I think he was dead?" There were six shots – four aimed at Dr. Pathmakumara, and two at another hospital employee, who was also killed.
A sister's sorrow spills over in a flood of tears. "He told me he was coming home this week," sobs Vasana Pathmakumara, unable to say anymore. Calling home at 7.30 p.m. that same Sunday, he had spoken to her briefly, saying they could catch up when they met, and that he would be seeing her soon. She hung up, never to hear his voice again.
No one can comprehend who would want to kill the young doctor, or why. It was just two days before the incident that his personal security had been removed – the presence of STF guards in the premises had apparently discouraged patients from coming for treatment. When they had their guards, says Chandrika, they felt safe, as there was always someone keeping watch over them. However, her husband had made no protest over their removal, as his primary concern was caring for the patients.
Although Dr. Pathmakumara and she were concerned about safety when he was posted to Navatkadu hospital in Batticaloa district, one year ago, they were confident that security would be provided and that he would soon get a transfer to the Gampola hospital, closer to his hometown. He was her love for over 10 years, and since their marriage, she accompanied him everywhere. This posting was no different. "I was worried about him, and wanted to be near him always. Now it is he who has left me."
Family in shock: Dr. Pathmakumara's father, sister and mother
Dr. Pathmakumara was known for his healing touch, and people from all over would come just to listen to him speak, saying that would make them feel better. "He was so generous in treating the people of our village," says his grieving mother, Konagedera Baala Menike. "He would dispense medication, and ask that they pay him only after they were cured, or not at all. He was loved by everyone, as far as I know he had no issues with anyone when he was working in Batticaloa."
He had so many dreams, she says, to renovate this house, to buy a car, to organise his sister's wedding. He was so full of enthusiasm and plans; he had worked so hard to become what he was. She grows silent, the burden of shattered dreams and the dark future now weighing on her.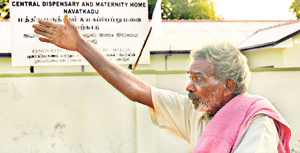 A villager points out the Dispensary where the killing took place.
Batch mates from the Peradeniya University, from which Dr. Pathmakumara graduated in 2006, expressed shock over the incident, saying that he was such an unassuming and gentle person, that they could not imagine him facing such a violent death.
Chandrika stands by the casket, touching her husband's face, oblivious to the crowd around her. Her pain is too deep for tears, it is disbelief above all that she feels for the life that was so brutally snatched away. Why did this happen to us, she asks, and no one has the answers, it is she who will carry her agony and her memories in the lonely days that must follow.