She paints almost daily, mostly in the nights. Art has helped her overcome many obstacles that life hurled her way, she says. Strewn across the room are images of people painted in colours that reflect their individuality. There are landscapes too –the green fields and blue skies of Kalpitiya and vibrant abstracts.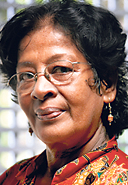 Noeline Fernando
Noeline Fernando describes herself as a people's person which is reflected in most of her art. She gets her inspiration from simple things like the way people dress, their work or the way they live.
The artist is a mother of two, and as an art teacher who taught at many schools she feels that art is therapeutic. A teacher who believes her students should be guided and not taught, Noeline Fernando still pursues her passion and hobby of over 25 years with undiminished zest as she prepares for an exhibition next week.
In this exhibition, 'A journey', she focuses on people, their day-to-day life and places. She hopes to display over 25 paintings that she has done over the course of her career and also expects to include paintings by her students, for in her own words, "I am also a teacher".
Noeline is as passionate about teaching as she is about painting. She enjoys working with children and visits the Jayanthi Children's Home in Payagala twice a month. She also used to work part-time at The Chitra Lane School for the Special Child', at St. Bridget's Convent primary school and the SOS Children's Village in Piliyandala.
Her classes are not confined to children only but encompass adults as well. She strongly believes that it's the desire and will that matters and not whether you are a child or an adult.
The exhibition will be on from November 30 to December 3 at The Sapumal Foundation, Rosmead Place, Colombo 7 from 10 a.m. to 6.30 p.m.