It was 16 years ago, on the morning of November 16, 1992, at about 7.45 a.m., that we lost a great officer and gentleman. He was assassinated by an LTTE suicide bomber who rammed his motorcycle into his car at Galle Face, opposite the Hotel Taj Samudra. Admiral Fernando was on his way to office from his residence in Longden Place, Colombo 7.
I happened to be travelling on the same route in my official vehicle, and I was some 75 metres ahead of him. I was on my way to my office at the Western Naval Command Headquarters, at SLNS Rangalla (the old "Rangalla" complex, behind St. Anthony's Church, Kochchikade), within the port of Colombo I realised I was ahead of his convoy only after the blast. When I was abreast of the Colombo lighthouse, along the Marine Drive, I heard a blast which sounded like a hand grenade that had misfired. My driver slowed down. I turned back and saw a Land Rover jeep taking the turn at the old Parliament roundabout. The vehicle was emitting unusually excessive smoke from the rear. I told the driver to proceed, saying it was a likely misfire.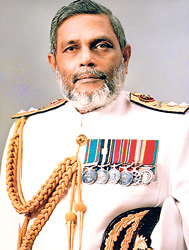 On arriving at the SLNS Rangalla Ward Room, while doing a change, my communicator (P/O Fernando, if I remember correctly) tapped on my cabin door. He told me there had been a blast along Galle Face Centre Road, and it appeared that the Navy Commander's vehicle had been at the same location. I said I just passed Galle Face Centre Road, and that I too had heard the blast at the Parliament roundabout, and that it had sounded more like a misfire.
A few minutes later my communicator came up to the Ward Room again and tapped on my door for the second time. He said, "Sir, we heard on the MSO on VHF channel escort sailors reporting that the Commander's car has got caught up in a blast."
I rushed to the scene. I found the car, a Mercedes Benz, completely damaged. The Navy Commander, in his uniform, was lying face down in a pool of blood on the floorboard of the car. His Flag Lieutenant, seated at the back, was also dead, and so were the driver and personal escort in the front seat.
The Commander's escort jeep had not been damaged, and the other escort personnel had not been injured. Apart from the police and some Army personnel, I was one of the first people from the Navy to arrive at the scene. Mrs. Hema Premadasa, wife of the late President Ranasinghe Premadasa, had arrived just before me. All this was all of 16 long years ago.
At the time, Admiral Clancy Fernando was the most senior serving military officer to be killed in the line of duty. On this 16th anniversary of his death, we reflect once more on a great man and pay tribute to the invaluable service he rendered to our country during an exemplary career spanning 35 years. He joined the Navy at the age of 19, in December 1957, as an officer cadet. He was appointed Commander of the Sri Lanka Navy on August 1, 1991.
He was a communications specialist. He made a huge contribution towards efficient and secure communication by devising the first ever cryptographic system, "SINHALE", for use in the Sri Lanka Navy. He was also the brains behind the designing of the Navy President's Colours and Staff. His book 'Customs and Etiquette of the Services', which has become a standard reference text, reflects his vast experience and knowledge of the subject.
He took a keen interest in naval history, and wrote several scholarly articles on the naval history of Trincomalee. And it was he who designed the gun carriage that is presently in use by the Navy. He designed a similar gun carriage and donated it to the Sri Lanka Air Force.
The late Admiral Fernando was a man with a vision. He believed in change for the better. He did not accept "no" for an answer, even to a seemingly intractable problem. His period in the highest office in the Navy lasted only one year, three months and 16 days. His untimely death prevented him from fulfilling all his commitments in keeping with his vision.
He was a man with an operational bent of mind, and would always discuss with his officers and men on how best to do "this and that". He would listen to what we had to say and work on the best possible solution to any challenge – be it fighting the LTTE at sea, preventing cross-border terrorism, re-organising the navy for smooth and efficient functioning, or seeing to the welfare of service personnel. Applying the principle of critical thinking, he developed a coherent strategy with a clear connection between action and result.
For example, in solving the problem of limited long-range fire power at sea, he took on one of the most challenging of tasks – loading an Army MBT (main battle tank) onto a Navy LCM (landing craft medium) to conduct test firing at sea. This proved a resounding success, and was a morale booster for both the Navy and the Army. As a result, we had a mobile MBT at sea.
His decision to intensify sea patrols in the Jaffna lagoon by deploying small naval craft was another priority measure to cut off the LTTE supply route from the mainland to the Jaffna peninsula.
One issue that has been of consistent concern to any Navy Commander is the Indian fishing trawler menace in the Palk Straits. Admiral Fernando always maintained that this was a problem to be tackled directly with Tamil Nadu. In order to do so, he obtained approval from the governments of Sri Lanka and India to visit Tamil Nadu, in south India, during his first official visit to India, in January 1992, as Commander of the Sri Lanka Navy. His itinerary included an official call on the Chief Minister of Tamil Nadu. In addition to discussing joint naval patrols in the Palk Straits in New Delhi, he also discussed the Indian trawler menace in the Palk Straits with the then Chief Minister of Tamil Nadu, Jayalalitha Jayaram.
On his return he briefed us on the steps to be taken when encountering Indian trawlers. He noted for the record that the Chief Minister of Tamil Nadu had agreed to co-operate fully with the Sri Lanka Navy in tackling issues arising from problems posed by Indian trawlers in the Palk Straits.
He emphasised the need to have an ongoing dialogue with the New Delhi and Tamil Nadu governments. He recommended that regular high-level consultations between the governments of India and Sri Lanka be held at political and diplomatic levels, during which visits by naval teams from both countries for discussions should also take place.
He always maintained that the only way to prevent supplies reaching the LTTE from parts of southern India was by preventing Indian trawlers from poaching in our waters. This was indeed an important step. To my knowledge, this was the first time that a Navy Commander from Sri Lanka had called on a Chief Minister of Tamil Nadu to express Sri Lanka's security concerns vis-à-vis Indian trawler excursions into our territorial waters.
It was generally felt that the LTTE targeted Admiral Fernando because of his actions during a short period of time to curb LTTE boat movements in the Jaffna lagoon and the Palk Straits, consequent to his discussions with the Chief Minister of Tamil Nadu on LTTE activities at sea originating from the coastal belt of South India.
His contribution towards tri-service operations on land and at sea was tremendous, and sometimes at the Navy's expense. He was very popular and liked by the other two arms of the services – Army and Air Force – because he always accommodated their requests on all operational and logistics-related issues.
On a personal note, I would like to share a few memories. One day, when Admiral Fernando was talking to me about the late Lieutenant General Denzil Kobbekaduwa, he said: "Razeek, you know, what I like? An instantaneous death, like that which befell my good friend Denzil.
I would hate to be hospitalised and suffer." What he had hoped for, however sad it may have been to those he left behind, came to pass.On another occasion, when we were together during one of his visits to SLNS Gemunu, the naval base at Welisara, he was keen to have a look at the gun carriage that he had designed and built. On seeing it, he said to me: "When will I get an opportunity to be taken in this?" Neither of us knew then that the day was not far off when he would have that opportunity.
He was a great family man who liked to spend time with his wife and children. I remember receiving a letter from him when he was serving on board MV Lanka Kanthi (CSC vessel) as Master of the vessel on secondment. Let me quote from his letter: "Look after my children, as they are my treasure". He was sailing, and only his wife was on board with him. Their children, who were in the 9 to 12 age group at the time, were going to school and being taken care of by their grandparents.
I wish to recall another occasion, which has to do with the time I was serving under Admiral Fernando's command as his deputy (Executive Officer) on board the then Flagship SLNS Samudra Devi. At the time I had a personal problem. The owners of the rented house I was occupying wanted the house back, and it was difficult to find suitable alternative accommodation at such short notice. All of the official Naval quarters were occupied, with no signs of any falling vacant in the foreseeable future. Admiral Fernando listened to my problem.
Two days later, he said to me: "Monica and I discussed your predicament, and we have decided to let you occupy our house at Mount Lavinia when we leave next month on my joining the CSC vessel MV Lanka Kanthi. You will have the place for a period of one year, and during this time we hope you will find a solution to your housing problem."
I asked: "Sir, how much rent do you expect?" He smiled and said, "I don't think you could afford to pay the market price, and so the house is free for you." That was Clancy Fernando, a warm-hearted and generous human being.
It was from here onwards that we became intimate family friends. Eventually, the unenviable task of delivering the obituary tribute to my boss and close friend fell to me.
Today, as we mark the 16th anniversary of his passing, I would like to repeat the last paragraph of that tribute I paid Admiral Clancy Fernando:
"Sir, though you have departed from us, we will remember you and the service you rendered to our country forever. You were a true patriot, great officer and gentleman, valuable son of Mother Lanka who made the supreme sacrifice in the defence of our country. As you fade away beneath the waves, we will steer your course with guns blazing."
Rear Admiral (Retd.) A. H. M. Razeek, VSV, USP, ndc