The Chitra Lane School for the Special Child will hold an exhibition of its students' handiwork on November 28. On display from 9.30 a.m. till 4 p.m. within the school premises at 45/3 Chitra Lane, Narahenpita will be a variety of colourful paintings, craft items such as purses, friendship bracelets, key tags and various other items with beautiful bead work and cross stitch, greeting cards made from in-house recycled paper, printed screens, pillow cases etc, all made by the school's highly enthusiastic and talented, differently abled children.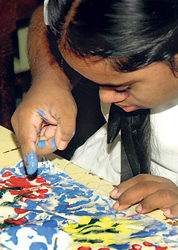 In addition, there will be several action stations where students will be at work, recycling paper, making handicrafts, cooking etc. The theme of the exhibition 'True Colours' is based on a lovely painting done by an autistic child. The walls of the exhibit rooms have been opened up for the students to paint graffiti on. Founded in 1968 by Mrs. Delysia Gunewardene who first started work in her garage with two intellectually impaired children, the Chitra Lane School has come a long way.
Today, the school and its affiliated resource centre cater to children with a wide variety of special needs such as learning disabilities, autism and cerebral palsy that a normal school cannot provide for.
Run with the help of a small core of dedicated, professional staff as well as several volunteers, the school exudes a cheerful, vibrant and welcoming atmosphere.
The public are warmly invited to attend the exhibition, which the students have prepared for, for over two years. According to Sureni Jayaweera, the public relations officer of the school, the exhibition is being held primarily to promote awareness of the students' abilities as opposed to their disabilities.