Rukshan Jayewardene's first photographic glimpses of wildlife were through the view finder of a small plastic camera.
Even at that early age, photographing wildlife was his main interest, followed by reading. The adult Rukshan is not all that different. Many years ago, asked to put down what he wished to do, wildlife photography and authoring a bestselling book topped the list. Twelve years on, years of photography through a 35mm lens will be on exhibit in "Wildspace", to be held from November 26 to December 7 at the Barefoot Gallery.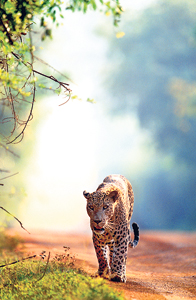 The leopard approaches
"Mechanical things never interested me," he recalls. "But I am a self-taught photographer who takes photographs of natural subjects only. People were never a part of what I chose to photograph and even now, I have to make a conscious effort to photograph people."
"There are plenty of people who will capture photos of family and friends or their pets but rarely do they go any further. I feel that there need to be more people around who start where others left off- that is where wildlife photography comes in."
Studying archaeology and anthropology for a great part of his life, Rukshan feels that the two fields helped him a great deal in achieving all he has done so far.
"Success as a wildlife photographer requires concentration, patience and discipline. Some days in the field can be exhausting, with little effort to show for the exertion. I have made many personal sacrifices along the way, but the sum of time spent out in the wilderness areas has been sheer joy."
Speaking to Rukshan Jayewardene makes it clear that all the hard work was more than worth it.
Right from his first glimpse of a leopard at Wilpattu which he described as an exhilarating experience, to his regular visits to Yala to see the leopards, his experiences are many and varied.
According to Rukshan, some of the exhibits- such as leopards at a kill may draw some criticism. "It was my intention," he says, "to show people what describes life in the wild. Leopards kill, but not with malice; their killing is all based on survival and people need to understand animals such as these, better."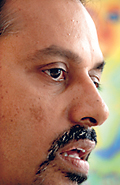 Rukshan
Approximately 70 photographs will be featured in Wildspace, 75 per cent of which are from Sri Lanka while the rest are from Africa and India. "I never wanted to confine myself to photographing and exhibiting Sri Lankan subjects only," he explained.
"I do not believe that wildlife should be viewed as ours, mine and theirs. Thankfully, animals have the good sense not to respect our political boundaries and live freely, governed by their needs only."
The exhibition will remain open till December 7, from 10 a.m. to 7 p.m. on weekdays and 11 a.m. to 5 p.m. on Sundays.