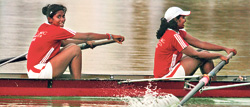 A Ladies College pair after having won an event. Pic by Ranjith Perera
Ladies College retained the championship title at the fifth annual regatta with Musaeus College which concluded at the Beira Lake yesterday. Ladies had a massive 34 points while Musaeus could muster only six points. The last three races were held in pouring rain.
In the overall tally Ladies College has won the event on three occasions while Musaeus has won only once in 2005, with one race ending in a draw in 2006.
Results
B Sculls: Sachitra Jayatilleke (M) bt Amayi Mandawe (L) Musaeus time: 4.53. Ladies time:5.01
A Sculls: Swarnamali Wijesinghe (M) bt Dehara de Soyza (L) Musaeus time: 4.34. Ladies time: 4.44.
A Pair: Yanithtra Hallock and Senuri de Silva (L) bt Swarnamali Wijesinghe and Suchitra Jayasinghe (M). Ladies time: 4.02. Musaeus time:
B Fours: Sarani Jayawardena, Dulanjali Mandawala, Tashya Lenaduwa, Amaya Jayasuriya and Chrruti Peiris (Cox) of Ladies beat Dilhara Rupasinghe, Natasha Perera, Sumanmali Gurusinghe, Chulani Ramanayake and Dhanushri Welikala (Cox) of Museaus.Ladies time: 4.02. Museaus time: 4.09.
A Fours: Amayi Mandawala, Yanithtra Hallock, Varunila Samarasinha, Tarea Navaratne, Khyathi Wickremanayake (Cox) of Ladies beat Subashini Kularatne, Rashmi Kodikara, Swarnamali Wijesinghe, Sachitra Jayatilleke and Sanjeevani Kumaratne of Musaeus. Ladies time: 3.59. Musaeus time: 4.06.
Old Girls Race was won by Musaeus with a time of 4.46. Ladies time: 4.47.
Exhibition race of Double Sculls and C Fours was won by Ladies College.