A powerful Sri Lankan Cricket delegation comprising SLC CEO Duleep Mendis, Sri Lanka Cricket Players Association secretary Graeme Labrooy, SLPA IPP and a member of the SLC interim committee Sidath Wettimuny and secretary Ministry of Sports S. Liyanagama will meet the BCCI hierarchy on October 19 in Bangkok. This meeting will enable Sri Lanka Cricket ratify the deal worked off by the SLPA with the Indian Cricket Authorities IPL-SLC players impasse which involved thirteen senior Lankan cricketers.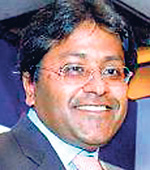 Lalit Mod
Two weeks ago Graeme Labrooy travelled to India to meet the Indian Cricket authorities to discuss the above issue and during that meeting the SCPA managed to pull off a deal that could bring in $70 million for Sri Lanka Cricket (SLC) over the next 10 years. However this deal will seriously undermine Sri Lanka's scheduled Test tour of England.
Upon his return to the island Labrooy presented the proposal to the SLC and the Minister of Sports.
The proposal, which will be presented to the Indian Board, will require the full participation of SLC within the IPL and its sister tournament, the Champions League, for the next decade. The Sri Lankan delegation are scheduled to have discussions with the BCCI secretary N. Srinivansan and Lalit Modi who besides being the man in charge of the IPL is also in charge of the international fixtures of the BCCI.
This deal follows the recent decision made by Lokuge that the Sri Lankan players contracted to the IPL will be released from the tour of England following the cancellation of Zimbabwe's tour to England.
Meanwhile a SLC high ranker admitted that it would be impossible to hold the two-Test series in England. "The England series is definitely off since it has not yet been ratified by the English Cricket Authorities and still remains subject to its approval. As a result, there is absolutely no chance that they are now going to sanction the series that will comprise a virtual Sri Lanka A side." Nevertheless, the ECB has been offered a three-match ODI series after May 25 and were also considering an invitation to play in a Stanford 20/20 tournament prior to the World Twenty20 in June.
As earlier stated the financial commitment will include an annual payment of between US$3-4 million for participating in the Champions League starting from 2009. India will also try to replay the cancelled 2006 tri-series featuring Sri Lanka and South Africa at some stage next year. An additional tri-series, worth an estimated $18 million, has been pledged for 2010 as well. It is also reported that a certain disgruntled influential cricket authority is trying to scuttle this event from taking place.