By M. Shamil Amit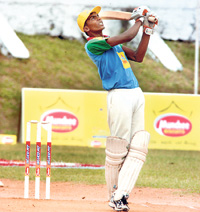 B.P. Suranga of Trincomalee/Kantale Combine in action yesterday.
Pic by Ranjith Perera
Trincomalee/Kantale Combined schools cricket team pulled off the biggest upset of the Old Wesleyites Munchee Glucofit Schools Sixes cricket tournament with a thrilling one wicket over St. Joseph's in a first round match played on day two at Campbell Park yesterday.
Trincomalee/Kantale Combined chasing a score of 66 set by St. Joseph's reached the target with just two balls to spare to advance to the second round. The performance of these lads saw that there is abundant talent outside the metropolis which the authorities seem to be turning a blind eye.
But Trincomalee/Kantale's success was short-lived as Kegalu MV beat them by one wicket in a second round match. Jaffna, another team from the war torn area of Sri Lanka, also put in an encouraging performance and was unfortunate to lose to fancied DSS by two runs as they made a score of 69 from a target of 71 set by DSS.
Prolific run getter on day one Dinesh Chandimal who slammed seven sixes in his unbeaten knock of 61 against the Ampara/Batticaloa Combined teams continued his form with another knock of 31 which included another four sixes as Ananda outplayed Zahira in a second round encounter.
Royal Panadura playing in the tournament for the first time made a fine debut as they overcame Joseph Vaz Wennappuwa in a high scoring game and with that win they advanced to the quarter finals along with Ananda and Nalanda.
Apart from these there were no other upsets as fancied teams won their games with the minimum of fuss. The tournament organized by Old Wesleyites and sponsored by Ceylon Biscuits Limited (CBL) saw 32 teams entering the fray but two teams Anuradhapura and Baddulla/Monaragala Combined teams failed to make it.
The final of the tournament is scheduled to be played at 4.00 p.m. with Lakshman de Silva, Group Managing Director of CBL gracing the awards ceremony as the chief guest.
Results
DSS 75 for 1 in 5 overs (Nadun Pathirana 43 n.o.) beat Maris Stella 68 for 1 in 5 overs (Shanaka de Silva 40 n.o.). Kalutara MV 57 for 1 in 2.5 overs (Tharindu Uthpala 43 n.o.) beat Gateway College 53 for 5 in 5 overs (Adhil Niyas 18). S. Thomas' 39 for 3 in 3 overs (Dinesh Walpita 32) beat Dharmapala 37 for 5 in 5 overs. Trincomalee/Kantale Combine 68 for 1 in 4.4 overs (Suranga Kumara 39 n.o.) beat St Joseph's 65 for 4 in 5 overs (Nishika de Silva 17, Chathuranga Kumara 17 n.o.: Janaka Kumara 2 for 21). DSS 71 for 3 in 5 overs (Nadun Pathirana 25, Charith Jayampathy 16: S. Niroshan 2 for 9) beat Jaffna 69 for 3 in 5 overs (Mirando Haripraveena 30: Nadun Pathirana 2 for 11). Thurstan 85 for no loss in 4.5 overs (Shehan Kamileen 46 n.o., Indika Massalage 27 n.o.) beat Kalutara MV 84 for 4 in 5 overs (Isuru Dharshana 18, Ruchira Mithun 29 n.o.). S. Thomas' Mt Lavinia 83 for 1 in 5 overs (Dinesh Walpita 34 n.o., Kavindu Perera 18 n.o.) beat St Thomas Matale 75 for 3 in 5 overs (Chathuranga Jayathileke 28, Rajitha Kellapotha 31 n.o.). Ananda 73 for 2 in 5 overs (Prabodha Seneviratne 33, Dinesh Chandimal 31) beat Zahira 24 for 5 in 5 overs). Kegalu MV 71 for no loss in 4 overs (R. Weerasinghe 39 n.o.) beat Trincomalee/Kantale Combine 70 for 4 in 5 overs (Thilina Chamara 24, Duminda Lakmal 18, Suranga Kumara 17). Nalanda 105 for 1 in 5 overs (Nipuna Karunanayake 39 n.o.) beat Moratu MV 69 for 3 in 5 overs (Lasitha Mendis 42). Royal Panadura 80 for no loss in 5 overs (Pubudu Asanka 40 n.o., Krishan Dinidu 29 n.o.) beat Joseph Vaz 75 for 5 in 5 overs (Maura Wijesinghe 23, Dhanushka Sandaruwan 29 n.o.). The last match of the day between St Peter's and Prince of Wales was called off sue to rain when the latter was 26 for 1 in reply to the formers 55. The match will be continued today.