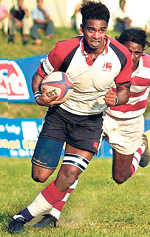 Sanjeewa Jayasinghe
The Asian Dragons formerly known as the Barbarians will arrive in Sri Lanka on Tuesday. This rugby team comprising of players from across the Asian region are marking their maiden tour out of Japan with two matches and a coaching camp for level two coaches.
Chief Executive Officer of the Sri Lanka Rugby Football Union (SLRFU) Dilroy Fernando said that The Dragons will play their first match against a Sri Lanka Colts XV at the Colombo Rugby and Football Club (CR and FC) grounds, Longden Place on Wednesday at 4.30pm. They will then stage a two day coaching camp before taking on a Sri Lanka President's XV at the same venue and at the same time.
The Presidents XV is likely to feature players who are in training for the Asian Division One tournament. Meanwhile, the trials to select the Sri Lankan team for the Youth Asiad will begin tomorrow.
In another development, Sports Minister Gamini Lokuge has asked the rugby selectors to hand over the criteria used for the selection of the captain for Sri Lankan team.
Speaking to The Sunday Times he said: "I have told the selectors to give me the report by tomorrow. I met the players who are protesting as well as SLRFU officials. So far I have received only a letter from Sanjeewa Jayasinghe. What I do believe is that the person selected to lead the national team, must be given more than one opportunity. At present every season there is a new captain. I have also asked Dr. Maiya Gunasekera to sit in with me at these discussions."
Dismissing rumours of a possible interim committee Lokuge said in conclusion: "There is no reason for me to appoint an interim committee for rugby at the moment. In fact I also told the players that the last time I intervened on a matter like this, two selectors with integrity resigned. I also told the players to use the proper channels to voice their concern if they believe that an injustice has been done in the future. No player or club is bigger than the country and at the same time there has to be proper selection criteria which is why I want to see the report before making a decision."