By Namal Pathirage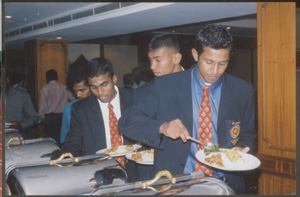 Prasanna Amarasekera (left), Manjula Kumara (middle) and Ranga Wimalawansa together at a dinner hosted for the athletes.
Can this be the biggest scam in the history in Sri Lankan sport? Since the arrest and remanding of Ranga Wimalawansa – an Asian Games relay gold medalist -- on charges of an attempt to send abroad persons on forged documents, more details of a mass-scale human-trafficking scandal involving leading Lankan athletes and allied personnel have come to light.
It was only last week that the Crime Detection Bureau acting on information exacted from Wimalawansa arrested on October 4 a well known athlete and two female athletes on human-trafficking charges and kept them on protective custody until they were produced before a magistrate on Wednesday.
The three arrested athletes are – Asian Games 400 metres gold medallist Prasanna Amerasekera, Lalana Shanthi, a member of the short distance relay team and Geetha Nandani Gallege, a former national women's walking champion.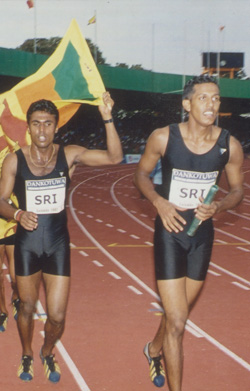 4 x 400 team mates Prasanna Amarasekera (left) and Ranga Wimalawansa celebrating their win at the Asian Athletic Championship held at the Sugathadasa Stadium in 2002.
On Wednesday, Fort Magistrate Gihan Pilapitiya remanded them till October 22. The three athletes are charged with aiding and abetting Saraswathi Sinnathambi of Jaffna, Mohammed Thawami of Mattegoda and Abdul Latif of Bingiriya to obtain visas and travel to Britain on false documents and accepting hundreds of thousands of rupees in return. According to CDB chief Anura Senanayake, the three suspects had allegedly prepared forged marriage certificates to pose off as their spouses. In real life, Amerasekera is single while the two female athletes are already married while one is a mother. Amerasekera was due to get engaged on October 29.
Police are also investigating whether those who have been sent abroad by these athletes on forged documents had any terrorist links.
Since these athletes travel abroad very often, they had little or no difficulty in obtaining visas from any embassy. In one case, the athletes were successful in obtaining visas though they were to travel to one country while their 'bogus' spouses were to accompany them only upto London. According to police sources, the three athletes have revealed that they received Rs. 200,000 each for the job, but, Wimalavansa who worked as the middle-man in the deal got a larger sum.
It is also learned that the Police are seeking the assistance of the Attorney General to make the three suspects crown witnesses in the Ranga Wimalawansa case.
The lid was blown off the Wimalawansa drama when a victim made a complaint to police. According to police, Wimalawansa had allegedly fleeced this person to the tune of Rs. 1.5 million on the promise that he would provide him with travel documents to enter the United States. But he failed to keep up the promise. When his 'prey' pressurized him, Wimalawansa had requested this person to meet him at a location near the Liberty Plaza, saying the documents were ready. While he was handing over the passport to his 'prey', two persons claiming they were undercover constables had pounced on them. Sensing trouble, the victim then had pleaded with the "cops" to let him go while Wimalawansa got away.
Realising that he had been well and truly duped by Wimalawansa and his bogus cops, the victim then made a complaint to the police. Detectives then set up a trap for Wimalawansa. On the advice of the detectives, the victim asked Wimalawansa to meet him at a place in Borella. It was at this meeting that the detectives arrested Wimalawansa and placed him under custody.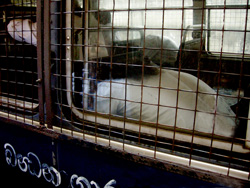 The shamed athletes who are under arrest taking cover in the Prisons bus from out staff photographer Athula Devapriya while being taken away from the Fort Magistrates court.
The detectives said they believed that the two bogus cops were not only on the payroll of Wimalawansa but also police officers attached to the Ministerial Security Division. They were paid Rs. 100,000 each, it has been revealed. Investigations have also revealed that the visa to the United States was a forged one, meticulously done with the aid of a computer at a Negombo house. Wimalawansa has paid Rs. 50,000 for this job.
Attorney Sanjaya Gamage who is appearing for Wimalawansa said his client was innocent and there was no proof to indict him on the above charges. Another suspect in the Wimalawansa case – Amith Dhammika -- who is a sprinter was arrested but released on bail.
It is alleged that high jumper Manjula Kumara who represented Sri Lanka at the recent Beijing Olympics was also cornered in a similar case. A bachelor, Kumara had introduced a woman as his wife and applied for a visa from the British High Commission. However on subsequent cross checking by high commission officials, it was found that Manjula Kumara was still a single. The case was hushed up after a VIP intervened. Athletes engaging in human trafficking is not a new phenomenon.
At the 2002 'Boosan' Asian Games in South Korea, ten Sri Lankan who obtained visas to attend the games as observers and then had gone under-ground had got letters of authorization from a prominent official attached to athletics. Then another set of persons vanished in France pretending to attend the 2003 World Athletic Champions in the same manner. Recently another well-known medal winning female athlete suddenly took wing abroad. Questions are being asked whether this athlete is also connected to this huge scam.