Many an artiste covered the Beatles classic "She Came in Through the Bathroom Window" a song written by Paul McCartney on their album Abbey Road, but, no one on earth would ever put on the Lankan parody on stage which they dubbed "He went out of the Bathroom window" (with the friendship itself).
Crime and sportsmen/women in Sri Lanka have been living side-by-side – may be since we learned about the athletes who emplaned with an armful of wristwatches. Not that Sri Lankan sportsmen indulging in acts that go beyond the peripheries of the sane norms of mundane life is only confined to this island alone. For instance the American fallen football hero O.J. Simpson's car chase arrest gripped the whole world some years back. Then awhile ago the Marion Jones files with her drug and perjury revelations were two of the classic examples that smeared the broad-line sporting world.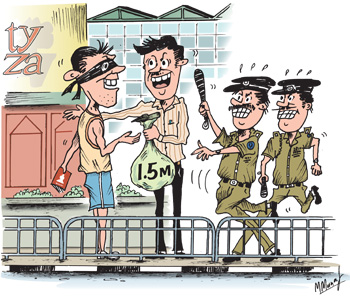 Not that there isn't any sportsmen who jump the fence that divides the line between right and wrong in other nations, but, our contention is that a tiny island like ours could hardly bear the burden of what has taken place in the name of sport.Just keep reading on.
It was only last week that three Lankan athletes -- 400 metre Asian Games Gold Medallist Prasanna Amerasekera, walking women Geethanandani and relay sprinter Lalana Shanthi were nabbed by the police for human trafficking scam through spurious marriages. Alas! How little we know. Just for curiosity I happened to inquire from an athletic insider. I quite understood him when he requested for anonymity. Simple explanation is that he has to live among them.
The insider explained "Do you know this has been happening almost from the turn of this century? Athletes and some other allied sportsmen being involved in human trafficking has been a well guarded secret, till another 4 x 400 metre Asian Games Gold Medallist Ranga Wimalawansa was taken into custody for felony that included human trafficking and cheating."
He explained how the gang worked. First they would go through the internet and find out about the up and coming events at prominent locations overseas. Then they obtain an invitation from the organisers paying whatever the entry fees were. Then they would identify a willing prominent athlete or two make him the front and obtain visas for some others who would want to go underground once they reach the destination. This was one of the most common and risk free modes of human trafficking. There was an incident where almost the whole team of weightlifters had failed to return to the island and another contingent of weightlifters were denied visas upon that issue.
Then there came another issue where a prominent High Jump star whose exploits are expected in the future and is now training abroad was saved by the skin of his teeth, that too after the interference of a minister. The charge was once again attempted human trafficking.
The Insider batted on "Once Ranga promised to send a person overseas for a promised sum of Rs. 1.5 million. Somehow the plot did not run the way it was planned and things were getting delayed. A forged passport and a forged visa were made up and the prospective traveller was asked to come to a prominent location in Colombo.
At that point as the person handed over the money, two actors dressed like Police constables arrived at the place and banished the prospective traveller while letting Ranga escape. The duped individual lost both money and his dream of going abroad." Wimalawansa was taken into custody later on. According to news filtering in even a few athletes themselves have worked out things of their own and gone under ground and are living in suspense abroad.
"My contention is this. Sri Lanka is a Third World country with most of the athletes coming from difficult or rural backgrounds and once they come into prominence they also cannot go back to their former lifestyles at home. At the same time they also know it is the time especially when they are in the limelight that they also can get things done. What one genuinely feels is that there is an organized gang of criminals who are aware of this situation and are doing everything to exploit it."
With hurt in his eyes the insider continued "Cricket in this country has become really professional. Even the players at the club level are well looked after and at the same time they get the opportunities of going abroad playing in a professional capacity. In short they get the opportunity of making a decent living. But, the poor athletes even if they reach the standard of a medal winning athlete at South Asian level, do not get the opportunities that a normal cricketer gets of making money. I have never heard of a cricketer going abroad seeking asylum or living under cover.
"Not that these athletes are aware of this situation and they make this issue to get frustrated. But, the reality is that the chances of an athlete getting duped by an unscrupulous person are a real thing, they keep walking with a clean suit with empty pockets, so the miscreants exploit the situation. What I earnestly say is that while punishing the erring athletes the authorities also must go deep into the issue and find who these exploiters are and then bring to book. If not we would soon lose our next generation of athletes".