A record number of anglers -- both Sri Lankan and foreign -- joined in the fray as the Ceylon Sea Anglers Club (CSAC) of Clappenberg, Chinabay held its third annual Madhu Ganga Fishing Competition on October 4.
The day's events began with registration and allocation of boats at 6 a.m. Each boat had up to four participants and 25 boats were launched by 7 a.m. with everybody searching for the elusive Barramundi and other species. The competition with the starting and finishing line at the Ganga Bada Asiriya in Balapitiya, was quite stiff for the coveted Penn International 965 Baitcaster Reel.
The competition concluded at 1 p.m. with the weighing of the catch. After a sumptuous buffet lunch the prize-giving was held.
Chief guest Mervyn Andriesz, a representative of the International Game Fishing Association (IGFA) and other special invitees distributed the prizes.
The winners are as follows:
First: S. Faleel- Mangrove Jack 1.76 kg
Second: Kisani de Saram- Mangrove Jack 1.76 kg
Third: Elsworth de Silva-Mangrove Jack 1.62 kg
Fourth: Isam Sally-Barracuda 1.34 kg
Fifth: Vish Cumarasamy-Barracuda – 0.94 kg
Sixth (Joint winners): Elisabeth Werdnik and Rayan Honter
Seventh: Chandev Abhayaratne
Eighth: Mohan De Lanerolle
Ninth: M. Azmi
Tenth: Mohan de Lanerolle
A significant feature of this event was the release of 1,000 Barramundi (Modha) fingerlings into the estuary at various points.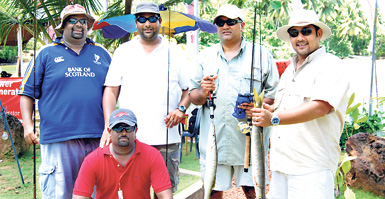 Anglers with their catch
The CSAC promotes sustainable fishing and this was its effort to put something back into the ecosystem and help the local fisher folk. All catches below the stipulated amount were released back into the estuary.
The organizers said they were thankful to Deputy Fisheries and Aquatic Resources Minister Neomal Perera who helped them obtain Barramundi fingerlings. The cost was met through contributions largely from Yohan Dissanayake of Baurs Healthcare.
The event was sponsored by Nayantara Fonseka of Taru Restaurants and co-sponsored by Air Supply Pvt Ltd.