My wife and I were saddened by the sudden and tragic passing away of our dear friends Raja and Jenny Johnpulle. I first met Raja in 1957 when he joined the Faculty of Science, University of Ceylon, Colombo, for his First MB. He has been my friend ever since. We lived in Aquinas Hall (Catholic Hostel), a well-knit community of 40 undergraduates. He was a smiling character taking an active part in the affairs of the hostel. I remember him being the Literary Secretary and producing the annual journal.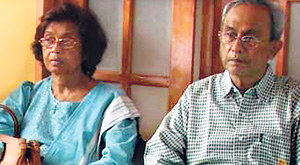 Moments before the blast in Anuradhapura
He and Jenny left the government health service very early to engage in full time private practice in Anuradhapura. They were respected and popular practitioners.
He was happy when I was appointed the Superintendent of Health Services Anuradhapura in 1978. Then he was Sri Lanka's Ambassador in the USSR. When he was on leave in Sri Lanka he paid a special visit to me at my office and had a long chat about the health services of Anuradhapura district.
We became closer friends from the 1990s as we met at the monthly meetings of the Independent Medical Practitioners Association of which he was Vice President. He travelled regularly from Anuradhapura and most of the time went back in the dead of night.
He was dedicated to the UNP under every leadership. He did not gain financially from politics. Jenny did not dabble in politics but stood by his side always. When the UNP office situated in his clinic was first damaged. I telephoned him and told him that the time had come for him to give up politics. Regretfully, he did not agree. We met them after their home was burnt. They were calm and resigned to what had happened.
Sri Lanka has lost two honest and caring doctors and a rare upright politician. Their children among whom one is a doctor can be proud of them.
May they rest in peace.
Dr. Lucian Jayasuriya, Rajagiriya