Janaka and Vajira Perera are no more – killed by a suicide bomber in a blast that claimed so many innocent lives and left a nation in shock and sorrow. Even as they face the future, bereft of their parents' love and support, the way the four children Janek, Janushki, Shehara and Ashanka face their grief so stoically, with dignity and self respect, is a clear reflection of their upbringing by two exemplary parents. It is as if they had undergone a lifetime of training to face this tragic loss.
Although the three younger children have been away from Sri Lanka since 2001, living in Australia, their parents insisted they visit home at least once a year lest they forget their roots, they said, speaking to The Sunday Times on Friday at their home in Poorwarama Road, as mourners flocked to pay their last respects to their parents.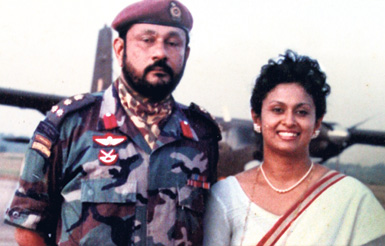 Janaka and Vajira
Asked if she was surprised at the crowds that gathered at the funeral house at Anuradhapura, elder daughter Janushki was quick to say, "Oh no not at all- we know our father's nature, and the fact that he left his family, and chose to live in Anuradhapura was a clear indication of how he really wanted to serve the people and to do something genuine for the country."
Their parents shared a strong bond, said the children. "Dad looked strong and serious, but his eyes would just melt each time he looked at mum," said one. Vajira used to say that "she was his neck," they recalled. "He respected her so much and she thought the world of him, and supported him in turn."
"Even people in Anuradhapura took to mum so well, because when she came to join Dad's campaign she was like a breath of fresh air. Dad found a lot of strength in having mum around. She was his life," said younger daughter Shehara adding that this was why she remained with him in Anuradhapura.
A lesson they learnt early in life from their parents was to treat everyone alike. "How our parents treated people was a good example to all of us. We were told to respect and treat the people the way we would like to be treated no matter who they were, and irrespective of their race, colour or creed."
Janushki is currently doing a Master's in Law, and also working part-time in Canberra. Shehara, third in the family is 23, and has only four more weeks to graduate in International Relations and Commerce from the Australian National University.
| | |
| --- | --- |
| | |
| Janushki | Shehara |
Ashanka is the youngest and a second year student at the University of Canberra following a Bachelor of Commerce degree. Reflecting on their childhood, Ashanka says that his father was always away, but when he came home he had special quiet moments with him and they would watch his favourite cartoons on TV together. Growing up, his father enjoyed watching him playing rugger for Royal, and never missed a single match when he played club rugby in Australia.
I first met Janaka and Vajira in 1993, when our sons entered the Year One class at the Royal Primary. Ashanka and Neraj, our eldest were soon to become close friends. This friendship brought the two families together and till they took off on their diplomatic assignments we shared happy times whenever we met.
Vajira wasted no time in gathering a few friends when Janaka returned from the battlefront in their small quarters at the Army Camp in Colombo. At these gatherings, the spotlight was on him and as the charismatic Janaka held sway about his battlefield experiences and victories we were proud to be in the company of a true war hero.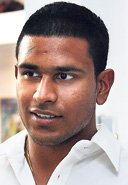 Ashanka
Affable Vajira, so ebullient and effervescent, added much colour to these discussions. Always ready for a good laugh and a joke, she never displayed her anxiety to her children about her husband being away at the warfront. She held the household together and brought up the children to be strong and independent.
The children remember that as a family they always did things together whether it was a mere visit or sight-seeing trip or holiday in some resort. In Australia they visited many temples and churches, and one of their fondest memories are of praying together a lot, as both their parents came from families with strong religious backgrounds, and wanted to instil these beliefs in their children. Janushki recalled that during her days at Visakha Vidyalaya her mother sometimes would get annoyed when she refused to attend Daham pasela at the Vajiraramaya Temple.
Were there any special lessons they learnt from their parents? "My dad said if you work hard for it you can achieve your goals," said Ashanka. Added Shehara, "Because whom you are with can break or make you, it is important to surround yourself with positive and good people". She went on to say that their father had insisted on good manners, and whenever they had a reception at the Residence in Australia when he was Sri Lanka's High Commissioner there, they had to dress appropriately, and go forward, and introduce themselves to each of the guests and engage in conversation with them.
For Janushki, it was the lesson of togetherness, and staying close to each other as a family. "Take care of each other, and this way you can look after yourselves," she says.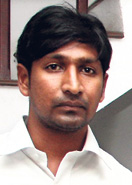 Janek
Janaka and Vajira lived a tranquil life overseas. Vajira got involved in many charities to help raise funds for the underprivileged in Sri Lanka. Janaka like many other diplomats played a lot of golf when in Indonesia and Australia and enjoyed taking part in tournaments. While Janaka loved eating Sri Lankan food anytime, Vajira preferred western food and roasts etc, their children recall.
A couple of days before her death, Vajira had mentioned to her friends, how she longed to be with her children in Australia and how much she missed them.
From a young age, their parents had instilled in them the importance of family unity, and the importance of being close. This way they would always have each other, they were told. A beautifully cultivated lesson of family values, principles and traditions is what Janaka and Vajira gave their children Janek, Janushki, Shehara and Ashanka from which they now draw strength to face the future.