The eyes are dim and the memories sketchy, ebbing and flowing. Naturally so -- for she reached the 100th milepost in the journey called life on October 8. Little whispers of her feisty and dynamic personality shine through on and off. With a trace of a smile on her lips she points to Suresh Kumar by her side and says playfully, "This is my elder brother", but quickly adds, "Mage Putha. He is a good man", to dispel any misconceptions.
We are seated with the Boralugoda Lioness, Caroline Anthony Pillai (nee Gunawardena), not in the Maha Gedera at Boralugoda but about two miles away, in a cosy home amidst 22 acres of rubber and coconut, away from the madding crowds, in Alubodalawatte, Kosgama.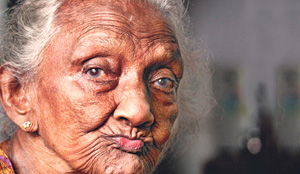 Boralugoda Lioness, Caroline Anthony Pillai (nee Gunawardena)
Caroline is part of a large political family originating from Boralugoda (the Gunawardenas), with socialist stalwarts such as Harry, Philip and Robert and even a second generation which includes Vivienne, Dinesh, Indika and Geethanjana.
While Caroline fixes her firm gaze on my colleague who is taking photographs and queries, "Who is this?", her youngest son Suresh Kumar explains, "The foundation of this house was put by Amma long years ago, nearly 50-60 years ago, but she could never build the house, for she was living in India with father and coming back only for a month when we got our school holidays."
Money was also scarce with four boys to educate and it ultimately became the task of Suresh Kumar (58) to build the house, room by room over a period of 20-odd years. Always Spartan and making do without the luxuries, he too like everyone else who closely associated with Caroline had imbibed all the qualities of staunch and true leftists that both Caroline and her husband were to the core.
"Amma never wore make-up, not even powder. She never used perfume," smiles Suresh Kumar, while wife Yasomi who happens to be Caroline's niece (daughter of Robert Gunawardena) rummages around for old photos of Aunty Caro.
Sepia-toned photos too are difficult to come by, even the wedding photo of Caroline and S.C.C. Anthony Pillai. "Remember they were leftists and didn't believe in dressing up and going to a studio, for they considered such behaviour to be bourgeoisie," says Suresh Kumar.
Dubbed a "pioneer Sri Lankan socialist", the life-story of Caroline -- who not only made an impact in Sri Lanka but also in India supporting husband 'Tony' in all his trade union and political work -- is inextricably linked to the socialist movement in both countries.
Caroline is the only surviving daughter of Don Jakolis Rupasinghe Gunawardena better known as Boralugoda Ralahamy, a wealthy landowner. Following the lead of her elder brothers, Philip and Robert, Caroline (the eighth in a family of 10) embraced socialism as a young lass, joining the Ceylon nationalist movement in the early 1930's and being an active member of the Lanka Sama Samaja Party (LSSP) which was born in 1935.
On why the Gunawardenas became "resolute nationalists" opposing the colonial administration, Charles Wesley Ervin, author of 'Tomorrow is Ours: The Trotskyist Movement in India and Ceylon 1935-48,' writes: "In 1915 commercial rivalry between Sinhalese Buddhists and Muslim merchants flared into communal violence. The British governor imposed martial law and rounded up suspected nationalists, including Caroline's father, who was accused of giving dynamite to rioters, sentenced to death and jailed for seven months until he was released for lack of evidence."
That was the defining moment for the Gunawardenas. The 1920's saw brothers Harry and Robert along with Caroline becoming activists in the nationalist youth groups. Then it was the campaign trail for Caroline, to get Harry elected from the Avissawella constituency.
Even though Harry was defeated, Caroline's passion for social justice didn't wane and when brother Philip returned from abroad, she quickly took up the revolutionary ideology. There was no turning back…..the Suriya Mal campaigns, a perfect indigenous foil for Poppy Day and other protests and battles for worker rights became part of her life.
Wedding of Caroline's eldest sister Sophia in 1915 at the Maha Gedera

1.

Robert

2.

Philip

3.

Caroline

4.

Harry

5.

Agnes

6.

Alice
An old faithful, Baby Nona, who joined the Boralugoda household as the carter's wife long years ago reminisces on the malaria epidemic that swept across the country in the early 1930s. "Ape game kattiyatath, matath, malariyawa haduna. Menikela thama ape gam walata ave udaw karanna," says 90-year-old Baby Nona who had come to pay a visit to Caroline, explaining that Menike (Caroline) and her friends looked after them during the epidemic. It was the Suriya Mal campaigners who provided succour in the form of food and medicine to those hit by malaria.
Adds Suresh Kumara: "Amma was a very straightforward person and stood for the rights of everyone. If she saw any wrong she would flare up and many were the strikes she led in Sri Lanka including those of bus, harbour and granary workers."
But she also had time for family. An expert swimmer, she took upon herself to teach the younger generation to swim. "She used to throw us into the deep pools of the stream that ran across the Boralugoda property. Sometimes she would tie puhu pol around the chest of the children. Even the toddlers she would hold slightly above the water and get them to splash around," says Yasomi.
Her swimming lessons were such fun that Vivie Akka (Vivienne Gunawardena) would keep coming to the Maha Gedera even after her father built a swimming pool at Diddeniya where they lived, she says.
It was ironical that Caroline, who hated the work connected with milling rice manually as her father always wanted to eat red rice had vowed……… "mama nam ve atayak thiyen minihek badinne ne". (I would never marry a man who had even one grain of rice.)
And she did just that marrying S.C.C. Anthony Pillai, a trade union leader six years her junior to whom she had taught Sinhala and whose political career in India she later supported fully.
From Sri Lanka, Suresh Kumar takes us to the early life of his parents after they had secretly crossed over (firstly the husband and later the wife, having sold valuable paddy lands to finance their trip and political work) with other LSSPers, some of whom had dared to break jail, as the British had banned the party. They were supporting the Quit India Movement of Mahatma Gandhi against the British, through the Bolshevik Leninist Party of India.
While their father was heavily into labour activity and worker rights, aided strongly by Caroline, it was she who looked after the children and ran the house with their meagre income. "But she hated to cook," he says.
When father was in jail in India, says Suresh Kumar, she used to organize protest meetings. One day both she and Aunty Selina (N.M. Perera's wife) were to attend a secret meeting when they realized that they were being followed by the police. They switched buses and told the driver that the men were trying to be funny with them and asked him to take off when they gave the signal. As the bus took off, they stood at the front and rear doors and kicked the policemen.
"After that Amma was kept under house arrest," he says. "When father was an MP he got about Rs. 400 as salary and Amma used to run the house with that, supplementing the family income by rearing cows and selling the milk," he explains.
There were no luxuries – but the necessities were provided. When they were attending varsity Suresh Kumar's brother used to be given one rupee and he two rupees as bus fare. When his brother objected, his mother would hush him with the words that Suresh Kumar had to buy a ticket for his girlfriend as well, he says, thinking of the love and tenderness she showed.
It was only when Tony died in 2000 that Caroline was persuaded to come back home from her adopted home. When asked about her health, Suresh Kumar says she became feeble after she fell and broke her arm which now has a steel rod to keep it in place. "Otherwise she is fine. No cholesterol, no sugar, no pressure. She enjoys any food, and also a tot of wine or brandy."
As we bid goodbye to this centenarian who represents a by-gone era when men and women got into politics to work for the people and not stash ill-gotten gains, Caroline goes down the misty corridors of memory lane, recalling an oft-repeated rhyme her brothers had made up about her, "konde bokutu, dath kadatholu" when she held sway in Boralugoda.