Over 20 outstanding works in the field of literature in Sri Lanka, published in 2007, were recognized at the State Literary Awards held in Kamburupitiya in Matara last month. The awards ceremony was part of the State Literary Festival held from September 11 to 14 at Narandeniya Central College in Matara.
President Mahinda Rajapaksa was the chief guest at the awards ceremony, while Prime Minister Ratnasiri Wickremanayake, Minister of Cultural Affairs Mahinda Yapa Abeywardena, Ministers Dallas Alahapperuma and Mahinda Wijesekara also attended the literary festival over the four days.
The award for the best English novel went to 'Dragons in the Wilderness' by Jean Arasanayagam, while the award for the best English short story went to 'Short and Verse' by M. T. L. Ebell. Bernard Percival Peiris's 'Memoirs of a Cabinet Secretary' won the award for best work of non-fiction and Carl Muller's 'I am Modern Man' clinched the award for best work of poetry. Ranga Wickramasinghe walked away with the award for best translation for his Martin Wickramasinghe – Selected Short Stories. The best children's literature award went for 'The Stupendous Statue' by Vipulasiri Adikari
Special "Saahithyaratna" awards were presented to Prof. A. V. Suraweera, Prof. A. Shanmugadasan and Yasmine Gooneratne for their service to the field of literature in Sri Lanka.
A series of seminars, dialogues and exhibitions relating to literature as well as cultural shows were also held during the festival. Several books were also launched during the event.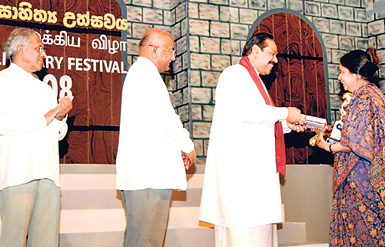 Jean Arasanayagam receiving her award from President Rajapaksa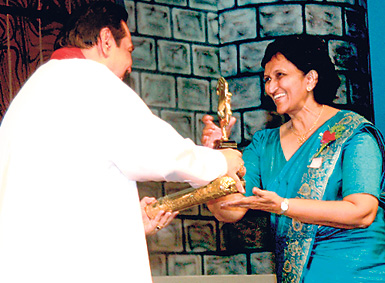 M.T.L. Ebell receiving her award from President Rajapaksa