GDL back in action
G.D.L. Perera was a big name in Sinhala theatre in the 1960s. Forming the Kala Pela with a few enthusiastic individuals, he produced six dramas in the first half of the sixties. 'Sama' produced in 1960, won plaudits both from the audiences and critics. GDL began his film career directing 'Sama' a few years later. 'Totupola' (1964) marked a landmark in GDL's career. Inspired by what he observed as a clerical hand in the Labour Department during a period of communal tension in the late 1950s, he wrote and produced 'Totupola'.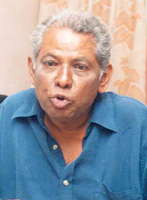 G.D.L. Perera
Forty five years later, GDL has revived 'Totupola'. It's in a way an experimental venture. He has picked an amateur cast from his drama training institute, named 'Kalagara Rangashramaya'. Established at Karalliyedda off Kandy, this institute has been serving silently for the past seven years and he felt confident that the players were now mature enough to get on stage. The new production goes on the boards this evening (October 12) at the Namel Malini Punchi Theatre in Borella.
When 'Totupola' entered the Arts Council's annual Drama Festival in 1964, it ended up winning several awards. GDL won the award for Best Production and Gamini Wickremasuriya for Best Stage Decor. Two players – D.M. Denawaka (popularly known as Denawaka Hamine) and actor Gamini Wijesuriya won certificates for acting.
'Totupola' was a much talked-about play then mainly because of its theme. The highly respected civil servant who had a deep interest in the arts, M.J. Perera wrote that "the handling of a story as conveyed in the play with such balance, delicacy and restraint calls for a real understanding of both dramatic language and situations". D.B.I.P.S. Siriwardena, then a member of the Arts Council Drama Panel described it as a "meaningful and successful drama in every aspect".
The cast of just seven players included Gamini Wijesuriya, Leoni Weerasinghe (later Kotelawela who is seen still on the small screen occasionally), Buddhi Wickrema (another actor who has moved over to television), Denawaka Hamine, Felix Premawardena, M.D. Amarasinghe and Hemapala Perera. Some of them are no more but their performances are still remembered by theatergoers.
GDL who spent many years in Britain, had been rather quiet after returning to Sri Lanka some years ago. He moved over to the hills and continued his interest in the arts training rural youth in theatre. It's nice to see him staging a comeback with an acclaimed drama with a theme still valid even after four and a half decades.
From teledramas to books
Nalan Mendis is a man of varied interests. Best known as a teledrama director (he has many popular teledramas to his credit), he writes in between his busy schedule. A few years back, he wrote a book on one-day cricket in Sinhala, quite a comprehensive publication.
He has just released a book tracing the history of Sinhala drama festivals conducted by the Arts Council from 1990 onwards. The 700 page book titled 'Sri Lankave Natya Utsava Itihasaya' carries details of 17 festivals.
It is a Tower Hall Foundation publication.
Tower Hall Foundation quite active
Douglas Siriwardena, lawyer-turned drama producer presently heads the Tower Hall Foundation. He seems determined to make the Foundation an active and meaningful organisation. He organizes regular activities relating to theatre including felicitation of renowned artistes.
His latest venture is the opening of a bookshop at the Elphinstone theatre which is now a centre of cultural activities. The bookshop will have publications relating to theatre and performing arts. The Foundation has also moved into publishing. The first publication is Nalan Mendis's book on Sinhala drama festivals.