By Quintus Perera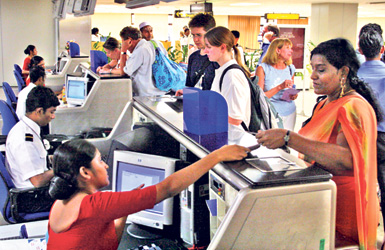 Counter at the airport
Sri Lankan migrant workers are faced with enormous problems while overseas, predominantly due to a difficulty in adjusting to the new environment, home sickness, communication constraints and the social problems they leave behind in their families.
Most migrant workers have not been able to meet their savings goals due to the substantial expenditure incurred in maintaining family ties and the lack of money management. In a bid to minimise some of these problems particularly loneliness, Microsoft Sri Lanka, Sri Lanka Anti-Narcotics Association (SLANA), some NGOs and the Sri Lanka Bureau of Foreign Employment (SLBFE) are coming together to create a communication channel so that both parties (worker and the family) could reach each other through Internet.
This joint group is planning to set up more than 15 communication centres across various parts of the country while three such centres have already been set up in Colombo, Kurunegala and Chilaw.
At a press conference held to announce the arrangements in setting up these centres, it was revealed that at each centre 10 computer terminals would be made available and they would be fitted with web-cameras.
The Sri Lankan family members can contact these migrant workers overseas through the communication facilities provided through Internet. Several such family members in Sri Lanka who are making use of this facility already, explained that it could completely eliminate the loneliness as while talking to each other, both parties can see each other, as if they are actually close to them. These centres are also training centres for the family members of the migrant workers.
These members are provided with five to six days training in all three languages on how to use this communications technology. Training is on a module which is an abridged version of the Unlimited Potential (UP) curriculum, especially developed to enhance migrant workers and their families' ability to stabilize their lives through access to new technologies.
By the end of the course these trainees would be able to surf the Internet, chat, e-mail, send images etc. The certificate course is a combination of basic and advanced computer skills (inclusive of training in the Sinhalese package), and will be held at the SLBFE and other NGO training centres.
Ms Dharshinie Guniyangoda, Director, SLANA told The Sunday Times FT that in this manner already more than 1,000 have been trained. She said that providing this type of opportunity would encourage those who use the facility to acquire their own computers which would be an impetus to spread Information Technology in the country. She said that though it is not yet decided, they are also looking at the possibility of arranging the purchase of computers at reasonable prices for those among migrant worker families who wish to make such purchases.