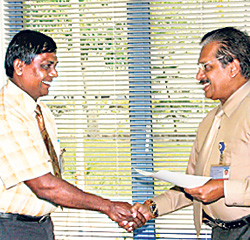 Senior Security Assistant, W.A. Shelton receiving the award from SriLankan's Senior Manager Security and Investigations Major Nihal Perera.
SriLankan Airlines recently recognised 18 members of its staff who found and returned many valuable items and large amounts of money which passengers had left behind on board aircraft.
The national carrier said in a press release that it recently paid tribute to staff of the Security Department and Aircraft Interior Servicing Department for their professionalism. "Foremost among them was Senior Security Assistant W.A. Shelton who won the admiration and cheers of the entire airline when he found and returned more than Rs. 650,000 in foreign currency and travellers cheques left behind by a Sri Lankan passenger from the UK who was visiting Sri Lanka with her family," the airline said.
Also honoured were 17 men and women who while cleaning various aircraft discovered and returned numerous mobile phones, cameras, purses, video games, watches, spectacles, MP3 players, and handycams. Manoj Gunawardena, the airline's CEO, was quoed as saying, "In an era of gimmicks and rapid service, values such as integrity and honesty often take a backseat. But companies that can build a reputation for integrity will remain strong forever in the hearts and minds of their customers. To Shelton this was nothing extraordinary. But to this airline, this act signifies the extraordinary level of integrity that prevails among all members of the SriLankan Family."
Mr Gunawardene said "Shelton may not have realised it at the time, but his action did more to enhance this airline's image than many of the numerous awards that our National Carrier has won during its 29-year history."
Shelton, who has been with the airline for 14 years, said, "It is nothing special. We often find items such as mobile phones and cameras, and also wallets. But I've never found such a large amount of money," he said.