By Bandula Sirimanna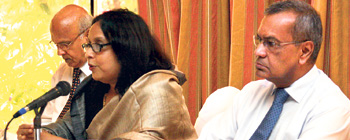 From left- Mr B.R.L. Fernando, Ms Marina Tharmaratnam, SLID President and SLID Vice President Mahen Dayananda.
The CIC (Chemical Industries, Colombo) Group is driving ahead with a mega agriculture project in excess of Rs 750 million in the Eastern Province which it sees as stimulating growth there and propelling the region's GDP growth to double digits in a few years.
B.R.L. Fernando, Chairman of the CIC (Chemical Industries –Colombo- Ltd) Group of Companies, in comments this week, also emphasised the need to upgrade Sri Lanka's agriculture management practices to increase the country's paddy yields.
He was addressing members of the Sri Lanka Institute of Directors (SLID) on "Sri Lanka Agriculture -- Food Security" at the SLID Power Breakfast in Colombo on Tuesday. He said that Sri Lanka's paddy yield of four metric tons per hectare could be increased with proper application of organic fertilizer and by introducing modern agriculture methods better quality seed paddy and upgrading management practices. The CIC Group through its subsidiary CIC Seeds Ltd operates five seed farms, which produce seed paddy and fruit and vegetables seed, he said. He added that the CIC has already taken initiatives to upgrade agriculture management practices.
Outlining the company's new agriculture ventures, Mr Fernando said that CIC Agribusiness has invested Rs 500 million on a major banana export project in the Eastern Province. This is expected to be a joint venture project with one of the leading Japanese fruit suppliers in the world. The banana cultivation would be spread over a 15,000-acre land close to the Kantale river in the east. The project will provide employment to 10,000 farmer families and the target is to export 200,000 tons of bananas and other fruits a week. This will mean Rs 4 billion worth of foreign exchange into the country, which will help propel the east's GDP growth to double digits in the years to come.
The company will also establish another joint venture project with the government for a 2200-acre dairy farm project at Mutuwalla in the same province. The investment for the project, which will produce more than 2000 litres of milk a day, will be Rs 250 million. The project will attract 1000 out growers in the area and the company will purchase 3000 litres of milk from them.
Apart from milk CIC intends to produce 2000 tons of compost fertilizer and 8000 tons of maize on the farm itself, to ensure diversity for the total investment. The company has a lot of plans to move into other areas of agriculture, including rice, to penetrate into export markets in the world. It also promotes Agro Tourism and is interested in driving this in the east, he said.
Mr. Fernando noted that the paddy yield from an acre of paddy land in Sri Lanka is around 100 bushels or 200 kg of paddy. He added that the income that could be derived from cultivating an acre of paddy will be around Rs.50,000 at the rate of Rs. 25 a kg. of paddy He disclosed that half of 1.6 million hectares of land in Sri Lanka is under paddy cultivation and the balance cultivated with crops such as tea, rubber, coconut and other crops. Sri Lanka produces three million metric tonnes of paddy annually in the Maha and the Yala seasons.
The inadequate freehold property and the biggest land ownership of the state are major constraining factors for farming in Sri Lanka. However he said that the CIC Group has launched a far sighted initiative to transform agriculture into a profitable venture creating awareness on modern agriculture methods leading to high productivity. The company has invested one billion rupees for the financial year 2007/ 2008 to implement a massive agriculture production programme, according to Mr Fernando.