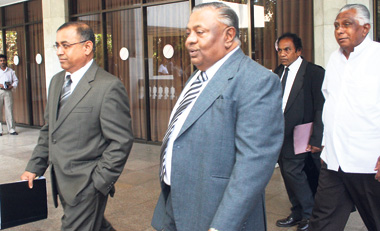 Former Treasury Secretary Dr. P.B. Jayasundera, People's Bank Chairman W. Karunajeewa (centre) and Chairman Employees Trust Fund K.M.A. Godawatte (right-in white shirt) walk out of Supreme Court Complex on Wednesday after Dr Jayasundera apologised to court. Pic by J. Weerasekera.
Former Treasury Secretary Dr. P.B. Jayasundera, after resigning from his post after months of controversy following the July 2008 Lanka Marine Services Limited (LMSL) judgment, on Wednesday appeared before the Supreme Court and apologized for continuing to hold public office after the judgment.
He was further ordered by the three-panel Supreme Court bench headed by Chief Justice Sarath N. Silva to provide an affidavit by October 20 to prove he does not hold any public office or has any involvement in any companies in which the Sri Lankan government has a direct or indirect interest.
The Chief Justice told counsel Faiz Musthapha, representing Dr. Jayasundera, that the latter should have resigned as soon as the judgment was delivered which stated he had violated the constitution and was not fit to hold public office. The Chief Justice added that one does not have to wait until an 'umpire signals you out.' He added that Dr. Jayausundera should have listened to the order and moved out if he was genuine and honest, saying his compliance should not have been theoretical but substantial.
Dr. Jayasundera was further asked to declare that he was apologizing to the Court for continuing as Treasury Secretary even after the judgment was delivered. It was also revealed in Court on Wednesday by the attorney for the petitioner that Dr. Jayasundera held one share in two state companies.
The former Secretary holds one share in Mihin Lanka along with other senior government officials, and similarly in a state company involved in defence procurements. (NG)