By Jagish Hathiramani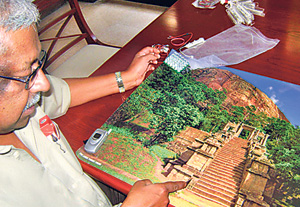 Tony Newton
Embracing renewable and sustainable energy sources (solar, wind, biogas, etc) in a bid to cut carbon emissions is an area that has become relevant to every individual in recent times. However, an issue which is still to be resolved is how alternative energy sources could keep up with the level of energy consumption currently maintained by burning fossil fuels. The answer may come from a very unusual source - UK resident, Sri Lankan Tony Newton.
By creating a way to increase the intensity of LED lights to make them comparable to 40W incandescent bulbs currently used the world over, Mr. Newton has approached the 'consumption' issue from a very different angle: Decrease the household energy burden by lowering the amount of energy consumed by lighting devices.
In fact, Mr. Newton claims that test cases utilizing LED lights, batteries and solar panels incorporated into homes to maintain 'sensible lighting' have seen as much as a 20% immediate savings on the average monthly electric bill. According to the literature, this is just one in a list of multiple benefits, which include: increased efficiency through LED lights which are 90 - 98% energy efficient compared to incandescent bulbs which are only 10% energy efficient; LED lights produce none to very little heat from the load resistor depending on the supply current, whereas incandescent light bulbs dispel 200 degrees Celsius; and LED lights last 50,000 to 75,000 hours compared to incandescent lights, which last 900 to 1,000 hours.
The idea, which apparently occurred to Mr. Newton after visiting a friend outside Colombo following the 2004 tsunami, was in response to the main electricity grid being down. His realization was that many people who did not have access to the electricity grid could be helped by new technologies available in the UK. Following his idea, Mr. Newton consulted with Professor K. Balachandran of Brunel University, UK, and designed LED light panels to maximize illumination, minimize power consumption and increase their lifespan. He also carried out pilot projects and tests in UK and Sri Lanka to determine the feasibility of the LED lights. Currently, the LED lighting systems are available for purchase in the UK as a way to neutralize a person's carbon footprints. Offered in conjunction with co2balance, UK, Mr. Newton's LED lighting systems are primarily available to people in countries with strict carbon emissions standards.
This system allows them to earn carbon credits by investing in LED lights, a battery and solar panels for a rural home in Sri Lanka, which would ordinarily be burning kerosene oil for lighting, and thus offset their 'heavy' carbon emissions by contributing to the 'lightening' of someone else's carbon emissions.
To date, Mr. Newton has shipped 330 LED light panels, which he has branded 'Tia', after his granddaughter. He has also outfitted a school in Mombassa, with plans for a further school in Kenya and South Africa. In addition, he is in the process of completing several projects in Sri Lanka, including Nithyakalyani Jewellery and the lighting of the stairway of the ancient Yapahuwa rock fortress, a charitable project which is currently pending further sources of funding.