By Harry Jayachandra
All best are off when Royal meet S. Thomas' in sport and none more so when it comes to cricket and rugby. With cricket done and dusted, it now comes down to their ruby encounter for the Guneratne Trophy to be played at the Royal College Sports Complex at Reid Avenue on Saturday.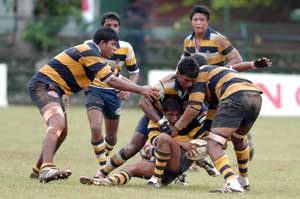 Royal came to their own against St. Peter's and thus have added more weight to their reputation this season. (Pic Ranjith Perera)
After losing their first two games, Royal won six on the trot include a stunning triumph over Singer inter school Segment A Division one league champs St. Peter's Saturday before last. In addition they do have a slim chance at the league plum if other results go their way.
Led by Suwinda Lenaduwa Royal have been able to pull the fabled 'rabbit out of the hat' when it mattered. Thus one would expect them to go in as favourites especially after S. Thomas' defeat against St. Joseph's last week. However, no one with an ounce of common sense would count S. Thomas' out.
With the league trophy out of their reach, S. Thomas' are likely to come out with all their fire power. They also know that Royal may be having one eye of the second leg of the Bradby which will be played in Kandy a week from Saturday. Led by number eight Rohitha Rajapaksa, S. Thomas' have the ability and talent to beat any team on their day. Thus if both teams play to their potential a thrilling game is on the cards.
The junior games will precede the under 20 match including the under 18 encounter for the Thambimuttu Trophy.
Royal from: Nikira Senanayake, Udara De Silva, Shamir Fajudeen, Shehan Pathirana, Kalana Amarasinghe, Hasitha Bandaranayake, Ashik Bari, Bilal Hassan, Naren Dhason, Suwinda Lenaduwa (Captain), Duminda Attygala, Shamil Ahamad, Nilal Faizer, Mushin Faleel, Ashan Dassanayake, Krishan Perera, Ranga Perera, Aqeel Sathuk, Asif Akram, Kavithra Chandraratna, Nabil Jalaldeen Hamza Hassan, Chamath Dharmasiri and Shalendra Chandrasekera.
S. Thomas' from: Rohitha Rajapaksa (Captain) Devan Hallock, Ramesh Perera, Shaveen Kapuwatte, Heshan Guneratne. Manjith Thammanagama, Savith Kalupathirana, Janith Jayasuriya, Rajinda Guneskera, Roshenka Kodituwakku, Tarik, Jayasuriya, Jeevaka Hewavitharana, Niluk Wickremathileke, Arjun Manoharan, Anjula De Silva, Wayne Brown, Asena Kohona, Sandeep Jayawardene, Dinuk Ranasingha,Jeremy Fernando, Yasas Subasinghe, Amrith Andrado, Shehan Thahir and P. M. D. Silva.
Meanwhile the champions of Segment B will decided when St. Joseph's take on Mahanama at the CR and FC grounds at Longden Place. St. Joseph's with seven out of seven top the table, while Mahanama with six wins and one draw are in second.
Both teams have already assured themselves of Segment A rugby next season, but bragging rights are on the line. The Josephian's amazing comeback victory of Segment A team S. Thomas' last Friday gives them the edge as does their determination to be the champions of Segment B.