There are interesting discussions on many possibilities. The path that schools rugby takes are twists and twists which keeps everybody guessing. As we get closer to curtains the 'Singer' league title remains open for the schools. The defeat of St Peter's -- the defending champs brings Royal who some weeks ago did not enter into the frame. Now it is a wide frame with many contenders, but only one will survive.
It will be a dramatic finish with probably the final result to be known in the last week. That is after the match to be played between Kingwood and Trinity. Trinity and Kingwood have played six games each and have won five. Trinity will meet Royal this week and the winners will be known as this article is read. Kingswood has to play Dharmaraja. Then the potential champs, Trinity and Kingswood have to play against each other. It seems that the draw has been directed by some unseen hand so that the last game will be between the leading contenders. That is subject to Trinity beating Royal. It however is not going to be an easy task as Royal too have shaken off the dust and broken the cobwebs and are shining in armour.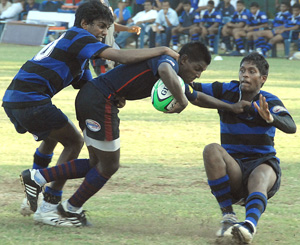 As it stands now… Thomians are way off track while Kingswood is with a good chance of reclaiming the title
Then follow a whole lot of possibilities that make people to say B...U...T if Trinity were to lose to Royal. Then if Kingwood who are expected to beat Dharmaraja are beaten by Trinity. Then it is a jumble of three or four teams who may have lost two games each. Then you hear S. Thomas' putting the hand up and asking what about me. Yes if you beat Royal then again it will be three teams with two matches lost joined by St Peter's. A part of the jigsaw will be in place by the time this article is in print. It is however a certainty that Dharmaraja, St Anthony's, and Vidyartha will be at the bottom and will fall off to the lower division come next year.
The pick of the games was between St Peter's the defenders against Royal College. This was a game where Royal played very well and sounded a warning to Trinity who they play this week. Kingswood on the other hand had a close call against Isipathana and managed to hold on and win.
CR had a challenge on their hand at Longden Place as Havelock's took 5 points to 0 lead at half time. The wrong options taken gave away the game .They handed over victory to CR who eventually won 13 points to 9. The game that may have reached a climax of satisfaction fell on the way as handling errors or being penalized dominated the game. Over a hundred stops of which 38 were scrums while 28 were penalties. To me it was a case where both sides played safe and kicked the ball away if it was not dropped. The kicks were never for pressure but to gain ground and the throw in the line out went to the opposition. I also could not understand not taking one of the penalties that came your way with five minutes to go. Being led 13 to 9, a converted penalty would have taken the Havelock's within one point. Receiving the ball from a center kick would have given them the opportunity to strike. It was not be theirs as they chose to hit and strike off the few penalties they had with minutes to go.
On the other hand CH who went down to CR tamely came back strong this week. The score line of 30 points to 17 does not speak of how well they played against Kandy. At Half time it was CH who leads by 11 points to 8. CH while playing well held Kandy being led 20 points to 17 until a few minutes was left. Kandy had an opportunistic try when a kick from outside the 22 was smothered and the bounce was right. This was followed by a penalty which closed the lid for CH. The number of unforced errors being minimal both sides had opportunities that were made use of. CH played well as though possessed and wanting to destroy their enemy. It was one of the better evenings as spectators were engrossed in the battle going on in the centre. They enjoyed the game and the thrills that went on with it.
Kandy have looked vulnerable and lethargic at the start. This phenomena has been a characteristic of them. But the experience and talent they have gives them the determination to make a comeback and turn tables. This is the last week of the first round and the table leaders Kandy meet CR and FC. It will be a grand game of rugby with Kandy having the edge as the match is played on home soil at Nittawela.
= Vimal Perera is a former Rugby Referee, coach and Accredited Referees Evaluator IRB.