By Aubrey Kuruppu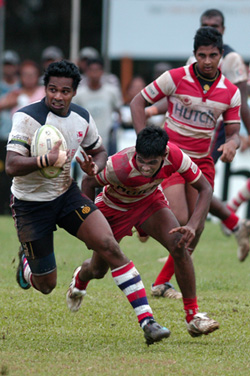 Both CR and Kandy are hungry for glory….. This evening we will know who was really hungry to win.
Kandy SC- CR & FC games have over the last decade or so, tended to be very tense, tight and epic confrontations with a lot riding on the outcome. This Sunday's game promises to follow the set pattern. At stake is the early psychological blow that could be inflicted on the loser when it comes to the final reckoning.
Two unbeaten teams, two sets of players from among whom almost the entirety of the national team is drawn up and the stage is set for a no-holds-barred battle. Speculation was rife that the kicking maestro Nalaka Weerakkody would take his boots off the shelf and resume his accustomed place in the last line of defence. However, when contacted, Weerakkody ruled out a return for this game though he did not deny a possible return in the next round. That Weerakkody was playing with the idea of a return for the CR game indicates that the club's think tank is a bit perturbed by the goal-kicking efforts of Saliya Kumara and Hettiarachchi. This could be a slight Achilles Heel in the Champion club's make up, but otherwise Kandy SC has almost everything going for them.
Lewke who played for the hill-country club over the past couple of years will now oppose it and his battle with Bistamin, in particular, should add some spice to the encounter. Also lending a touch of piquancy is the fact that the fly halves Fazil Marja and Dev Anand, as well as the ex Kandy Scrum half Amjad Buksh are all cousins - Rest assured that when it comes to the heat of battle all that will be forgotten.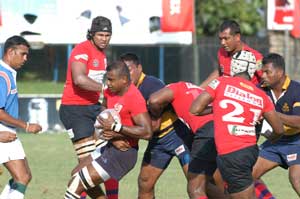 Marija has been one of Kandy SC's success stories with his neat collections and his ability to spot the gaps and open up the defence. The number of tries scored by him this season is not inconsiderable.
The Jewel in Kandy's crown is, without doubt, the fleet-footed Sanjeeva Jayasinghe who quickens the pulse when he starts off on one of his lightning runs. Sameera Silva, the other winger, though not quite in Jayasinghe's class, has lots of speed and thrust. A hat trick of tries against the Havies bears testimony to his ability.
Kandy's pack, replete with Sri Lanka players and well marshalled by skipper Sean Wijesinghe work hard to provide good ball to their exciting back division. The CR & FC may not quite be the all-powerful combination that Kandy is. However they have the talent and determination to match up to their opponents in terms of both speed and power. The CR has shown a tendency to come back strongly in the second half after a slightly unimaginative bit of play in the first. Of this is repeated it will be curtains for them as coming back against a team as professional as Kandy is well nigh impossible. It could be a case of too little, too late.
CR's pack has a lot of punch with the likes of Dharmatilleka and Karthelis and the skipper Shamil Mohamed. The back division is an exciting one having as it does players such as the De Costas, Nishan de Silva and Karunanayake. Fly half Dev Anand playing in his first season will be under a lot of pressure and scrutiny, and a good performance by him will go a long way towards helping CR's cause.
The stadium at Nittawela is bound to be packed to the rafters for this game. One dearly hopes that pebble-lobbing, fisticuffs and threatened walk-outs that have marred crunch games at Nittawela will be conspicuous by their absence this Sunday.