Police 22- Army 6
By Saif Izzadeen
Sri Lanka Police Sports Club scored a convincing 22 points to 6 win over Sri Lanka Army Sports Club in an inter Club rugby match at Police Park yesterday. Police Sports Club who led 8-3 at the lemons made up their points from two goals, one try and one penalty while the Army responded with two penalties.
It was a Police game all the way as their forwards played a brilliant game and outplayed Army in the forwards game.Army couldn't find answers to the way Police controlled the game. Due to the fact that Police won many scrums and line outs their three quatars were fed most of the time.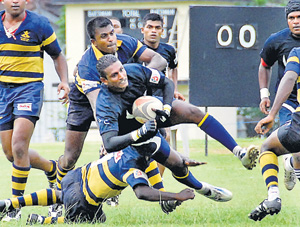 Action at Police Park yesterday. Pic by Sanka Vithanagamage
Police opened scoring in the 15th minute of the game when their place kicker Harshana Wijeweera was on target with a 30 meter penalty. Police 3 – Army 0
20 minutes later Army leveled the scores at 3—3 when Army place kicker Jayalal Harischandra put over a 40 metre penalty.In the stroke of half time Police scored a unconverted try from a forwards rush through flanker Gemunu Indrachapa. Police 8 – Army 3 at lemons.
In the 22nd minute after the resumption Army reduced the lead to 8-6 when they put over a 30 metre penalty through Jayalal Harischandra.
Five minutes later Police increased the lead to 15-6 when they scored a try through 2nd rower Pradeep Wilson. The conversion was kicked correctly by Harshan Wijeweera.On the stroke of full time Police increased the their lead to 22-6 when they scored a try through flanker and captain Nilusha Fernando. Harshan Wijeweera was on target with the conversion.
Referee – Asela De Silva