By Harry Jayachandra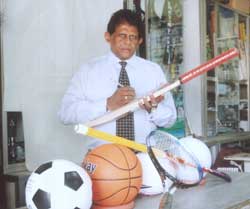 Tony Opatha
Sri Lanka's junior ruggerites are in for treat over the next one month. Gordonstoun School which happens to have one of the best rugby teams in England and Wales, will arrive on June 28 for a 14 day rugby and sight seeing tour. They will be followed by another top school from the same region in the form of Bancroft College who will touch down on July 22 for an eight day tour. Bancroft by the way is bringing both their first 15 and second 15 teams to tour the island.
"Both schools wanted to cancel their respective tours to Sri Lanka following the spate of bomb attacks. But I spoke to the school authorities and parents and managed to convince them otherwise. In fact they finally said 'bombs or no bombs we will come'. What is disappointing for me is that some of the top schools declined to play citing the league season." , said organizer of the tour and well known sports promoter Tony Opatha to The Sunday Times.
"These schools should look at the bigger picture. After one or two years, the boys will leave and when they start playing club rugby few if any, will get a chance like this. In addition this year Sri Lanka will be competing in the Youth Asiad and this would have been an ideal opportunity for Sri Lanka's best to press for selection. Keep in mind that everything is sponsored. continued Opatha.
"The reason why I want to promote rugby is simple. The schools are the feeder system for clubs and then the national grid. Thirty years ago we used to have 15 teams competing for the club league crown. Now it is limited to two or three clubs. After the top Colombo schools declined I issued an open invitation to which St. Anthony's Kandy, Dharmaraja, Vidyartha. Lumbini, Prince of Wales to name a few responded and we have already scheduled the fixtures for those schools."
"What I would really love to see is a combined team from Colombo and the same from the Central Province taking on these schools," said Opatha in conclusion.
Opatha may just get his wish. Chairman of the Rugby Development Committee at Isipatana Hassan Singhawansa said; "We are currently negotiating to arrange matches against these schools by a Colombo combined 15, Central Province 15 and also Isipatana.
Incidentally, England's heir to the throne Prince Charles and his two sons William and Harry all attended Gordonstoun School.