You won't know whether to laugh or not to laugh
With StageLight & Magic Inc. set to perform Martin McDonagh's 'The Pillowman', the cast of this post-modern dark comedy talks to Tarini Pilapitiya
View(s):
Martin McDonagh's Tony and Olivier award-winning play 'The Pillowman' will bring a dose of dark comedy to Colombo audiences. Also known for his films – 'In Bruges', 'Seven Psychopaths' and most recently the Academy award-winning 'Three Billboards Outside Ebbing, Missouri', McDonagh has an eerie quality in his sardonic narratives that can thrill in the most sinfully pleasurable way.
To be staged on July 7 and 8 at the Namel-Malini Punchi Theatre, Borella, 'The Pillowman' is presented by StageLight & Magic Inc., the same theatre company that brought us versatile fare from hilarious comedies such as 'Pusswedilla' and 'Freddy', Shakespearean drama and the dark plays of the NOIR theatre festival which still linger in the mind.
Produced by Dininda Paranahewa and directed by Shannon Misso, the cast includes Yasas Ratnayake, Bimsara Premaratne, Ashini Fernando, Biman Wimalaratne, Swasha Perera and Tracy Jayasinghe.
The play commences with the largely unpublished writer Katurian being interrogated by two detectives, Tupolski and Ariel, who claim that his macabre fairy tales are the inspiration for the violent murders of children. It is later found that Katurian's mentally-challenged brother, Michal, too has been taken into custody.
Spotlighting the dark themes of abuse, torture, the legacy of violence and relationships that revolve around violence, Director Shannon and Producer Dininda have taken great pains to make the most subtle of the writer's nuances meaningful. Audiences face a conundrum — to laugh or not to laugh?
Biman who plays Michal, most recently appeared in 'Shakespeare in the Park' and '12 Angry Men'.
Michal has the mentality of a child, attributing his rough childhood to his "slow ability to pick up things", he says. To Biman, Michal is someone who lacks empathy — "something diminished Michal's ability to care".
Interestingly, Biman previously played Katurian in 2012 in an Australian production of 'The Pillowman'. He feels the characters are relatable, allowing him to draw on his personal experiences to get into the part. However, he shudders, adding that "the repercussions of getting into the role of Katurian were rough". On the contrary, in playing the brother, Biman says that "there was a lot more rage when I played Katurian – - with Michal there's just a lot more curiosity".
Tracy who plays an alter ego or what she describes as an extension of Michal says, "You have to find empathy for this character". Both actors are teachers, hence their empathy for the roles. "Michal is just a result of the negative effects of ill-treating children," Tracy says, while Biman nods in agreement and adds: "Children should be protected and nurtured."
Katurian and Michal are examples of the pressures of fantasies and expectations of bad parenting, with Katurian giving Michal the only love he has ever known. The "brotherly bond" seen in Act 2 is perhaps the only heartwarming moment in the production.
Reflecting on his previous and present involvement with 'The Pillowman', Biman says that "it was a phenomenal theatre experience", adding with a grin, "You laugh but it feels so wrong". For Tracy, "Martin really tests the human condition".
Biman sums up Michal's personality enigmatically as "the price paid for creative genius that we don't get to see".
Director Shannon says that "Yasas gallantly came to the rescue in May!" after one of their leads had to drop out of the role of Katurian, while Yasas jokes that he is still learning his lines, with his last stage performance being in 'The Reality Show' three years ago.
"It's very exciting to come back to the stage," he says, adding that this play "demands a lot of focus" due to its heavy nature. "Katurian is, to sum it up, a deadbeat writer who has 400 stories but only with one published."
Using Hollywood star Jake Gyllenhaal's famous Donnie Darko-esque vibe to his character, Yasas seems to play around with Katurian's insecurities of being a social outcast and introvert. "I think everyone is going to respond to this grey character."
Swasha who like Tracy with Michal plays an extension 'alter ego' version of Katurian says that "we see this character progress throughout the play". Although she does not elaborate whether this progression is negative or positive, it does elicit sympathy, she feels. Swasha whose primary job is to recreate Katurian's stories, chuckles in agreement at Yasas's immediate response of "Aw man, it feels awful!" when asked what it feels like to take on the character.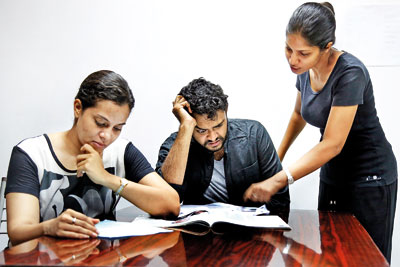 "It's raw and difficult to watch and recreate," Swasha says, with Yasas adding that the play reminds him of moments when you are at a funeral and the cause of death is so ridiculous you are not sure whether to laugh or cry. "It's a lot of emotion and suspense because you're left wondering where this is leading to," Swasha shares, as Yasas points out: "This character is neither black nor white, it's just a lot of grey."
Although Yasas will shoulder the emotional burden of portraying Katurian, it is Swasha who will embody more of the side of "writer Katurian".
"I delve more into the alter ego of his writing career — the excitement, the imagination and his storytelling quality," she says.
Bimsara (Tupolski) and Ashini (Ariel), the two detectives are completely at ease in their roles given their extensive careers in the drama circle. The two actresses are elated to take on these multifaceted roles. "All these characters are flawed in some way or another," states Ashini adding: "They push us to places of questioning ourselves."
Detective Ariel is supposed to be the 'bad cop' in the totalitarian environment, who prefers corporal punishment compared to his Commanding Officer Tupolski, the 'good cop' and Bimsara says it is a nice change as she has played predominantly virtuous roles in the past.
Ashini describes Ariel as a man of action with "a hero complex" and a "lot of baggage". In contrast, Tupolski for Bimsara is a "man of words" with a slight edge to his character, hinting that there's something that does not add up.
Both cops have poignant stories relating to their childhood, making their reactions to Katurian and Michal almost excusable and sympathetic to an extent. "It makes you realize that everyone is carrying their own baggage," Bimsara states, adding that "the play shows how ultimately this baggage affects their work and other people".
"Martin's characters are filled with wit and darkness," she remarks, noting the pattern that seemingly seeps into his writing. "He chases certain character flaws."
They laugh when asked what reception the play will get, with Bimsara stating, "I would expect the reactions to be mixed," and Ashini earnestly adding, "I would like them (audiences) to be jolted and for the play to have a residual effect on you".
Transcending boundaries and boxes, this post-modern dark comedy will surely give audiences plenty to ponder on.
'The Pillowman' will be staged on July 7 and 8 at 7 p.m. at the Punchi Theatre, Borella. Tickets priced at Rs. 500 (balcony) and Rs. 1,500 are available on Tickets.lk; The Studio (No 25, Isipathana Mawatha, Colombo 5); and The Punchi Theatre, Borella. For more updates, see their Facebook event page.