The game that changed a remote school
'Goal'
View(s):
"Heena Hoyana Samanallu" and "A Level" famed filmmaker Rohan Perera's newest film 'Goal' will be released in CEL circuit cinemas from this month.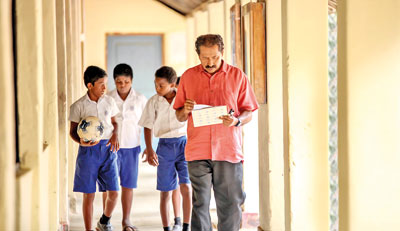 A school in a remote hamlet far away from the city and pupils who were satisfied with simple joys but never dreamt of luxuries or major victories changes with the entrance of a new teacher and the new sport he introduced. The game of soccer introduced by the new teacher soon becomes a major passion of the school and its students. They start seeing new dreams and determine to reach new goals. This is the story of 'Goal'.
The cast includes Jayalath Manoratne, Chandani Seneviratne, Jayani Senanayake, Nayana Hettiarachchi, Anula Bulathsinghala, Laksman Mendis, David Karunaratne, Rishan Naisharm, Theshan Thusmika, Dhananjaya Navin and a number of child artistes.
Behind the screen, cinematography is by Palitha Perera, make up by Narada Thotagamuwa, the art director is Kumara Karavideniya, assistant director Ashoka Athaudahetti, production manager Raja Ranasinghe, editor Ajith Ramanayake and music director Suresh Maliyadda.