Batik with a young vibe
By Tera Jayewardene
View(s):
With a love for batik and a mission to create women's lingerie for the tropical climate, Dinushi Pamunuwa's locally-handcrafted batik-style lingerie is what she will showcase under her brand La Pard during Fashion Week Colombo Swimwear and Resort-wear Edition from July 4 to 7 at the Shangri-La Hotel.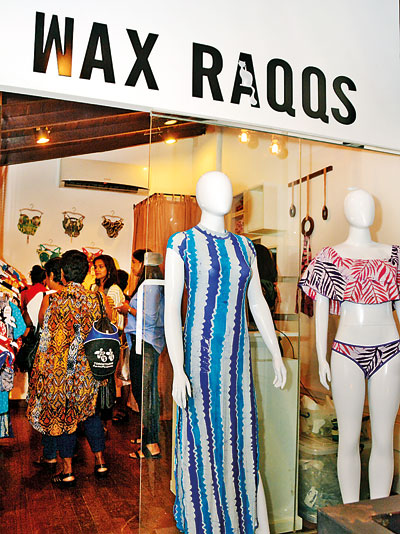 It is, however, a double celebration for Dinushi as her collection is paraded on the ramp, for she also opened her very own shop for her brand Wax Raqqs on June 20.
A Graduate of the Academy of Design, Dinushi developed a love of batik while at university. Wanting to do something different with batik and realizing that most lingerie is made with synthetic fabrics that are unsuitable for the tropical climate, she came up with the innovative idea of designing batik lingerie and swimwear.
She has since expanded her collection to dresses, accessories, evening wear, resort wear and other items of clothing, but her speciality lies in beautifully designed swimwear and lingerie.
Present in her shop the whole day, she prefers to be at the sales register herself. Even though it is tedious at times "I want to develop a relationship with my customers and get to know them," she says.
Wax Raqqs, formerly known as Pras and Danties, opened its doors after Dinushi's mother and father cut the ribbon and has on sale a vibrant line of batik swimsuits, lingerie, dresses, gym pants and other clothes with a young vibe to it. Open from 10 a.m. to 7 p.m. every day except Monday, Wax Raqqs is at No. 46/1, Stratford Avenue, Colombo 6, within Cafe Mocha by Barista.
Wax Raqqs originates from the 'wax' which is used to create batik clothing, while 'raqqs' is a special way of writing 'racks', giving a twist to creating something unique, much like the concept of the brand. Each set of lingerie and swimwear comes with the cat logo of the brand which is pinned on.
La Pard showcased earlier at the Colombo Fashion Week 2018 in March under the Emerging Designer segment, will be presenting on the main stage this season. The collection will be soft and feminine, with the use of pastoral colours, soft hues of peach and grey, while geometric shapes will be used for the batik design. Each piece of La Pard clothing is unique like the spots of a leopard.