Returning to the wilds to de-stress with 'Wilderness Journeys'
By Joshua Surendraraj
View(s):
Life in the city can be demanding at times and it's quite common for an individual to be stressed at work. However, immersing yourself in nature could just be the answer to de-stress. "Just hang out in a forest and you'll feel better, it's as simple as that," Hannah Harris the founder of Wilderness Journeys.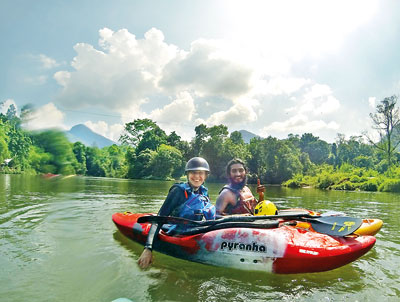 'Wilderness Journeys' -– as its name suggests, is a wilderness retreat travel company based on the idea that nature has the potential to enhance creativity and also pave the way for mental wellbeing. Hannah has modeled it into two paths, one of which is a pop up retreat such as writing, yoga and meditation, whereby the other path is set to focus on kayaking adventures.
This in turn, effectively combines her three passions which are psychology, sustainability and kayaking. Ironically though, Hannah has not always been into kayaking, as we find out. She originally visited Sri Lanka nearly two years ago, after having worked in sustainability projects back home, in the United Kingdom. At the time she was also reading for her masters. It was then that she realized she needed to go on an adventure holiday. Hannah lives in Oxford which comprises several flat water rivers that are good for canoeing, a past time which she enjoyed. So she decided to book herself a flat water holiday somewhere in the world and that was when she discovered a place in Sri Lanka.
However, her holiday on flat water had to be cancelled because the water level in the river was too low at the time. But, she was then directed to white water in Kithulgala. "To be honest I hated kayaking and I hated white water rafting because I always said it's for the young people," she explains adding that later on she was convinced to take the holiday and this was the start of something new.
She managed to go canoeing on her first two days in Sri Lanka. But on the third, her now business partner Lahiru Prasad (better known as Kandy) asked her if she wanted to try her hand at double kayaking to which she agreed. "Something just clicked in my brain when I tried it and I loved it," she says. After her holiday, things moved fast for Hannah. She finished her masters but at the same time, she was also made redundant. "I thought to myself 'what am I going to do? And because of the timing with falling in loving with kayaking, Sri Lanka and losing a job I was in that medley of stuff." It was during this time when she thought of doing something in Sri Lanka and that was the birth of 'Wilderness Journeys.'
Hannah had never been an ardent fan of the beach. Rather she preferred the forests and mountains. At the time, she had heard of a place called Amba Estate, which is nestled in a valley above Ravana Falls. "When I saw it, it was love at first sight, she explains adding that it is insanely beautiful and everything felt like a good fit when she had arrived there in April last year.
'Amba Estate' only employs people from the local village we are told, thereby benefitting the villagers. Their ethos blended perfectly with that of 'Wilderness Journeys.' And that's why Hannah decided to approach Amba Estate to be the official venue for the company. At present, Wilderness Journeys creates several pop up retreat packages, which will be run at Amba Estate. Aside from that, kayaking is Hannah's main focus right now. And since she's been living at the estate for almost three months, she has been going back and forth to Kithulgala. This is because the river near Amba is quite dangerous for Kayaking.
"Some people ask me, 'how does kayaking go with meditation and yoga? Aren't they opposites?' But I tell them no." To Hannah, whitewater kayaking is the most extreme form of mindfulness, and you have to focus on the river at all times. "Anything which you've read on the river goes out the window, because you have to look, read the water and work it out or else you'll flip."
Hannah is trying to challenge the idea that Kayaking is all about doing it big or being extreme. Since, it's not about that, rather the benefits, which Kayaking has to offer is so much bigger. And that's why kayaking goes well with the ethos of Wilderness Journeys.
"I want to work with people who believe in the same things as I do and aren't just about the profit. It has to have value to it." She adds that when it comes to kayaking, the initial idea is to try and set up an association for Kayaking in Sri Lanka in order to promote it. "Right now Kayaking is not on the map for Sri Lanka, but there is so much potential to develop it here."
For more updates and information log onto wildernessjourneyslanka.com or facebook.com/WildernessJourneysLanka/