Disciplined dance
By Nirmalie Alahakone
The students of Arpeggio Creative Dance & Drama Academy work together to bring a modern version of Sinhabahu to life
View(s):
It's close to 9pm on a Sunday night and the cast and crew of the Arpeggio Creative Dance & Drama Academy (ACDDA) are hard at work at Sudarshi Hall. Leader of the troupe, Nilan Maligaspe draws aside one at a time to speak. It's a very invigorating exchange with each student, who are filled with passion for their art form.
They are oblivious to the Kirala screeching overhead.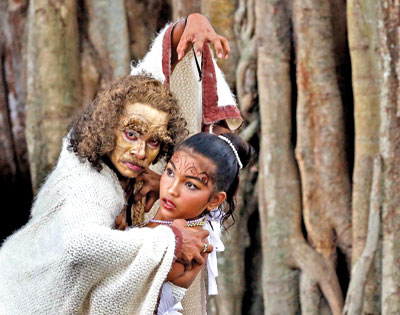 All of them are practicing for their take on Sinhabahu to be showcased on July 8 at the Lionel Wendt at 7 pm. It's going to be a modern, or contemporary interpretation, in ballet format.
"Dance is a very important art, but a lot of people see our costumes and come to conclusions. We are not taken seriously," says Chamitha Sewwandi, 16, who plays the role of Sinha Seevali. "There's a lot of negative perceptions. I really want to change these misconceptions," she adds earnestly.
Chamitha has been with the Arpeggio Creative Dance & Drama Academy (ACDDA) for six years. She loves all dance forms. "The role I'm playing this year is a big one, but in future, I want to play stronger female roles where I can showcase their strength more. I want a role I can play with passion and energy," she stresses.
Nilan has been teaching dance and drama for 24 years. His students are mainly from low-income households, urban, suburban and distant provinces. They are usually referred to him by someone who spots their talent or audition. Some meet him through the Warehouse Project in Colombo where Nilan volunteers his time.
"These children are truly talented, but have no financial resources. My aim is to set them on a path that will carry them forward. Some of my students started with me at 5 years. Three of the main roles in this year's production are portrayed by children who come from line homes in Colombo."
The Warehouse Project works with slum dwellers in Colombo. "I sometimes wonder if they didn't have this outlet [dance] where will they end up?" Nilan admits that it's a hard task to convince parents to let their children continue dancing. He doesn't single out the same set of children year after year. "I want to give a place to different kids each year. My goal is to widen their horizons in toto." The syllabus includes contemporary, ballet, Kandyan, lowcountry, Sabaragamuwa, Salsa.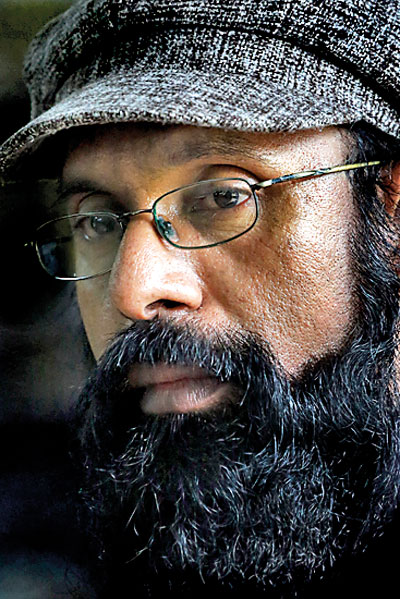 "My work doesn't stop with teaching dance and drama. I offer continued support. When one of my students establishes themselves as a teacher in their own right, I help them put together a show. Through the years, I enable them to gain a well-rounded exposure in all aspects of production. It's not simply performing, they learn various aspects like lighting, makeup, costume design, backstage support, props, formation, basically logistics. I think it's important that they learn the background, the elements of putting on a show."
In order to motivate the students, Nilan encourages them to do well in their studies. "They earn my praise when they do well in studies as well as dance. If you give them hope, they feel energised to do better. It has to be balanced. It is very important to me to mould good citizens."
When putting together a show, all children participate in numerous capacities. Some provide input in costume design. They take into consideration the period the performance is based in. Nilan himself started with breakdance before moving to miming. "Then I got interested in ballet. It's a little more advanced. It can convey a message, not purely entertainment. It's a powerful medium that can enable people to think." He wants to pass on what he learnt, "There is discipline in dance." Nilan is doing all he can to promote the introduction of ballet in schools. "It's a very creative dance form. Ballet can push boundaries and evolve unlike traditional dance forms like Kandyan and Sabaragamu."
He concedes that it's very hard to find sponsors for this kind of art. "Generally, people like to promote flashy, noisy pieces. But now the Ministry of Cultural Affairs is seeing my point.
Last year's production, Kuveni, won Nilan a lot of awards at the Sri Lankan Ballet Festival. "This is one of, what I think are, the three major stories in Sri Lanka. This year I cover another one, Sinhabahu, and my hope is to do the third next rear when we turn 25, Maname."
He is assisted by his past student Pathum Weerasinghe in script, and Sanjeeva Paranamana as musical director.
"Those days when we came forward to do a show, live music was requested. But this is costly and not feasible. So we asked to bring our own music tracks. This is where Sanjeeva proves invaluable."
"I've provided soundtracks and supported Nilan's choreography since 2009," says Sanjeeva. He is a pianist who composes the required music on a computer. "I use various instruments including a base guitar and then supplement the tracks with a drum machine. If I wanted a new sound, something to convey a particular sense of drama, I can use even the sound of this bird overhead." The Kirala seems to screech in agreement.
"I think now there is a void after Chitrasena and Vajira first introduced ballet here. Nilan is carrying that torch forward," Sanjeeva opines. "A lot of people don't know what ballet is. Especially if you go out of cities. There's no dialogue, everything is conveyed through music and dance. But there is a niche crowd who appreciates this art form and supports it. And this crowd is growing."
Nilan nods, and adds, "We work with both amateurs and professionals, school children and employed youth; our aspiration is that everyone becomes a professional eventually."