Tsunami lesson points to a future free of asbestos
By Kasun Warakapitiya
View(s):
Roofing developed in the urgency of post-tsunami rebuilding could be the solution to a move away from asbestos sheeting, with government agencies quickly researching alternatives.
Action has been stepped up following President Maithripala Sirisena's order to find suitable replacements for asbestos while a ban on importing material for asbestos production remains pending. The ban was due to take effect from January 1 but was suspended amidst reports that a ban imposed by Russia on Sri Lankan tea exports was a tit-for-tat measure against the proposed asbestos ban.
Ministry of Science and Technology Secretary Udaya Seneviratne said the National Engineering Research and Development (NERD) Centre has developed a roofing sheet out of cement and sand.
NERD's Director-General, Ananda Namal, said his agency has created a substitute roofing sheet of sand and cement that could be manufactured simply, using manual labour.
Cement Sand Roofing (CSR sheet) is a concept learned in 2006 from foreign experts building houses for tsunami victims in the country, he said.
"Around 2010, we manufactured the first set of sheets and used them on one of our buildings to see the durability of the material we produced," Mr. Namal said.
There was no observable deterioration of the roofing, and no side effects, and therefore the product was considered safe for use.
Mr. Namal said CSR sheets manufacturing machinery would be displayed to the Housing Ministry as well as to entrepreneurs willing to popularise the new roofing material.
A government subsidy for the price of CSR roofing would help popularise the product, Mr Namal suggested, adding, "But we also want people to learn that the CSR sheets are eco-friendly and health-hazard free."
NERD Civil Engineering Department Director J.A.C. Chrishanthi, who conducted research on the CSR sheets, is enthusiastic about the potential for the product, pointing out that CSR sheets carry the laying benefit of being larger than clay roof tiles and smaller than asbestos sheet, making them easy to handle during installation.
"The roofing sheet is around 910mm (35 inches) in length and 670mm (26 inches) in width and has a thickness of 8mm, making it heavier than asbestos but also stronger and lighter than clay tiles," she said.
A CSR sheet costs about Rs. 330 while a CSR micro tile measuring 485mm (19 inches) by 255mm (10 inches) costs Rs. 60.
"Though a CSR sheet costs more than asbestos there are no health threats," she said.
She stressed that CSR sheets were made of environmentally friendly materials according to Sri Lanka Standards. There were no furnaces used, and this saved energy and trees.
Ease of manufacture added to the advantages of CSR sheets as simple machinery and unskilled labour were employed, Ms Chrishanthi said. CSR roofing gave good water drainage system and the units were easily replaceable.
One disadvantage to CSR roofing was that greater care was needed during transport to minimise breakage, Ms. Chrishanthi said.
Fibre Cement and Products Manufacturers Association (FCPMA) Co-ordinator Anton Edema said asbestos manufacturers had long been investigating substitutes for chrysolite asbestos but been unable to find alternatives suitable for the Sri Lankan economy: asbestos came out cheaper.
He said NERD's efforts should be praised but warned of difficulties in promoting use of CSR sheeting.
"Once, India tried to market its Eco Sheet product as a substitute for asbestos but failed due to high prices and lack of demand. Let NERD produce it: if people embrace it, will be a success,"
Mr. Edema said.
"Our industry is experienced. We have created sheets for more than 70 years and there have not been any health issues with asbestos products. Let consumers on higher incomes go for high-end materials – the middle class relies on asbestos. The government must allow people to choose which material to use without banning the manufacture of asbestos."
Mr. Edema claimed the government had not notified asbestos manufacturers of the suspension of the ban nor advised them to start work on creating substitutes using their knowledge and experience.
The Director-General of the Central Environmental Authority (CEA), Mr. Hemantha Jayasinghe, said the authority was considering what action should be taken on the future use of asbestos and also attempting to find replacements. The Industrial Technology Institute (ITI) is also investigating asbestos health risks.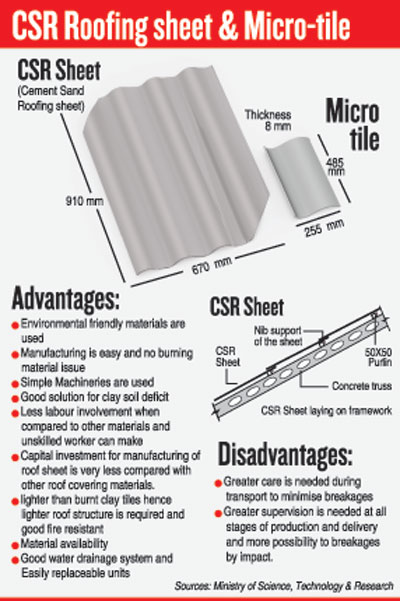 Handlers of asbestos 'should be protected' 
Inhaling fibres of asbestos components such as chrysolite and cement dust damaged the respiratory system, NERD Director-General Ananda Namal said.

Workers making the sheets ran the greatest risk of harm.

"If face masks, gloves and protective gear are used during manufacturing the probability of inhaling such dust is minimised as workers can protect themselves from harmful dust particles," Mr. Namal said.

He advised workers at asbestos manufacturing plants to wear protective gear and said carpenters and masons installing the roofing sheets should wear masks when cutting sheets.

He also advised that the sheets should be painted to reduce degradation and lessen public exposure to roofing dust.

Mr. Namal said only white asbestos was used in Sri Lanka and other countries rather than the blue asbestos definitively known to be harmful.