Angry Porativu Pattu residents block access to garbage dump
View(s):

Angry villagers at Porativu Pattu in the Batticaloa district had blocked the road to a garbage dumping site at Paduvankurai, demanding that the authorities take immediate stepd to remove it.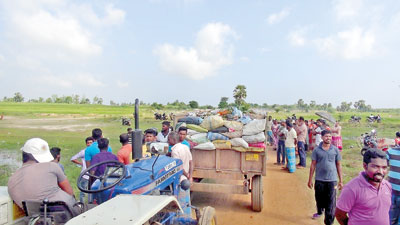 During a protest this week, they placed tractors to block access to the site. As a result, several councils in the Batticaloa district have stopped collecting garbage, officials said.
The villagers have claimed that the underground water in the area has been polluted due to the garbage dump and, as a result, their farmlands and the livestock industry have been affected.
The villagers said they had been agitating against the site for the past nine years but the authorities had taken little or no action. There were promises to set up centres to segregate the garbage into biodegradable and non-biodegradable garbage and a recycling plant, but these promises had not materialised, they said.
Porativu Pattu Pradehsiya Shabha Secretary A. Adhithyan visited the scene of the protest and spoke to the villagers. He pleaded with the residents to give him some time to sort out the issue, but the villagers demanded immediate action.
Mr. Adhithyan told the Sunday Times he had had an urgent meeting with the Batticaloa district Local Government Assistant Commissioner and that, as a temporary measure, he had offered an alternative place away from residential areas to dump the garbage. From tomorrow, garbage is to be dumped at the new site.
He said lack of funds and other obstacles beyond their control had caused a delay in finding alternative land to dump the garbage.
Pix and text by Deva Adhiran.