Helpless users pile on complaints against Facebook fakes
By Shaadya Ismail
View(s):
Bogus accounts on Facebook have become the biggest concern for social media users in the country, based on complaints that have been filed with a state agency.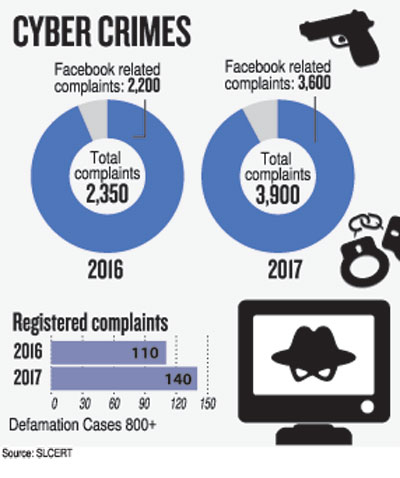 But other than making requests for such sites to be removed or asking that offensive or abusive material be taken offline, there is little help that social media users can get in Sri Lanka.
Offended or abused Facebook users can complain to the Computer Emergency Readiness Team (CERT), but the agency, which has a small cadre of 14, is not a law enforcement outfit. They can help users to get offending material removed and not much else.
CERT says 80% of the complaints related to Facebook were on fake accounts and the remainder were recorded as scams.
Overall, complaints increased last year compared with the previous year.
Last year CERT got 3,900 complaints and of these 3,600 were related to Facebook. In 2016 there were 2,350 complaints out of which 2,200 were related to Facebook.
Senior security engineer of CERT, Roshan Chandragupta, told the Sunday Times that the team can give technical support to report to Facebook, or to recover a hacked account.
According to Mr Chandragupta, if an individual wants to identify who the hacker is and take legal action, then the complainant is directed to get a police report and file a lawsuit.
Before 2010, report options on Facebook were limited and, in 2010, CERT collaborated with Facebook and helped to expand the choices.
CERT has also, with the Ministry of Education and the National Child Protection Authority, organised lectures in schools. Through a programme called EDUCERT, teachers educate school children on the use of social media and fake accounts.
According to Mr Chandragupta, last year, 400 teachers were trained under EDUCERT and 1,000 teachers are expected to be guided this year.
The Cyber Crimes Division of the police receives more than 100 complaints every month about Facebook. The division got 110 complaints per month in 2016 and 140 in 2017.
A senior official of the division said more than 1,000 complaints are received every year and 80% of them are filtered out because of a lack of applicable laws.
"People are fond of publicising their private life,'' the official said, adding that this leads to "chaotic situations of fake accounts and scams''.
"We advise people to only accept 'friend' requests from people they recognise and not random persons from abroad, or from your own city. It is a risk that you are taking by allowing a stranger to enter into your personal space,'' she said.
Mr Jayantha Fernando, legal advisor of the Information and Communication Technology Agency of Sri Lanka, said the best way to contain cyber bullying and misappropriation of property such as personal pictures and information is through measures such as educating people on how to mitigate and manage the problem.
According to Mr Fernando, the current terms and conditions of Facebook allow reporting of defamation through organisations such as CERT, which follows the same operating standards as Facebook.
According to a notice published in the newspapers couple of months ago by the Telecommunications Regulatory Commission with regard to laws on the use of Facebook it was stated that, the penalty for causing mental harassment to an individual through Facebook is two years rigorous imprisonment and a fine of Rs 50,000.
The penalty for hacking Facebook profiles is two years jail.
The penalty for creating fake accounts to defame a person, using pictures in an inappropriate manner, and individuals aiding in such activities are offenses which can result in imprisonment.
Mr Fernando said bullying online, and misappropriation of property are punishable under common law.