Polls Chief on alert as campaigning heats up
View(s):

With less than five weeks left for local elections, parties and independent groups have started their campaigns with strict warnings from the Election Commission against violating regulations.

More than 250 complaints related to violations of election regulations have been reported to election monitoring groups, with only a few major violations to date, since the handing over of nominations.

Major parties have launched their campaigns formally or informally, with senior members of the parties on the campaign trail, despite the elections being called only for local councils.

The parties have also stepped up their poster campaign, despite candidates being required to campaign only in a limited area.

Commissioner General (CG) of Elections, Mahinda Deshapriya, on Friday said the Dept would strictly enforce election laws and warned action would be taken against those who violate the laws.

"There is a strict prohibition on distributing gifts or giving other inducements to gain votes. If such instances are reported, we can bring charges against them for bribery," he said.

There is also a ban on using candidates' pictures or pictures of party leaders on posters.

"Only posters informing people about meetings can be displayed. These can include the theme of the rally if needed," he added. He said permission is granted to display cutouts near party offices, but this is not a privilege, only a concession.

He said that, in some interior areas, there are reports of posters displaying candidates' pictures. "We are requesting the public to remove such posters," the CG added.
He added that all cutouts should be removed by Jan.31.

He also requested politicians not to interfere with the work of the law enforcement authorities.

"We have told political parties not to visit police stations in groups and demand the release of those detained. If necessary, they can use a lawyer," he added.

He said there were reports that some candidates are working as proxies, promising a prominent politician will be appointed if he wins the elections. "This is not possible.

Only the persons on the two lists can be appointed, unless they resign and give their places to outsiders."

He also said the Dept has warned against campaigning against voting for women, and get involved in violence against women. "There are three hotlines to lodge complaints about harassing women candidates. We will be strict on such complaints. We will be compelled to postpone elections in councils where violence is reported."

He added that the State media has assured they will abide by the election regulations, but have questioned on how the private media will act.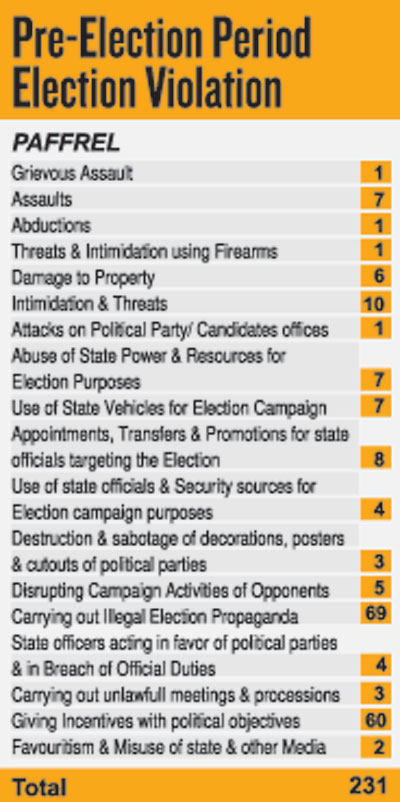 No assets declaration, no campaign offices
Candidates who fail to submit their assets declarations will not be allowed to open up campaign offices, the Commission of Elections has decided.Candidates have been requested to hand in their assets declaration forms along with their applications to open up a campaign office, a senior officer attached to the Election Commission said.

He said that the previous system allowed candidates to open the office subject to declaration of assets and the Elections Commission was empowered to call the police if they failed to follow the directive.