Little Yevin — a Lanka-born Aussie likely to reach great Golfing heights
By Sunil Thenabadu in Queensland
View(s):
Yevin Samararatne was born in Sri Lanka in 2004 and moved to Brisbane, Australia, with his parents in 2005. Since he was 4-years-old, he loved watching Golf on TV. He, simultaneously, displayed a natural swing of the bat while playing cricket from a very young age. This signified an innate talent within him. He was gifted with his very first Golf 'club' when he was just 6-years-old.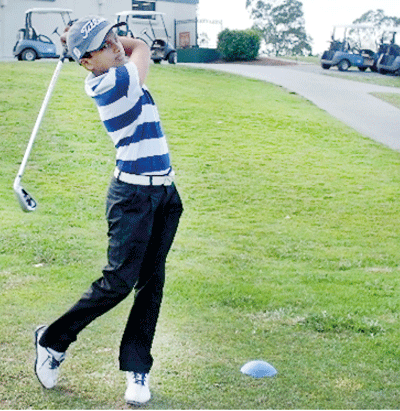 When Yevin turned 7, he started at Logan Golf Range, having joined Mount Warren Park Golf Club as well as River Lakes Golf Club, under the guidance and watchful eyes of coaches Jared Love and Zoe Nelson. While showing natural talent and technique of the Golf swing at such a young age, the coach had encouraged Yevin to start participating in 9-hole competitions, even though the rest of the competitors were very much older to him.
Since 2012, Yevin has participated in several competitions around Queensland and won several awards in tournaments at various clubs including Pacific Golf Club, Virginia Golf Course, Bargara Golf Club, Mt Warren Park Golf Club, River Lakes Golf Club, Sandy Gallop Golf Club, Bribie Island Golf Club, Wantima Golf Club and Walston Golf Club, Oxley Golf Club, Corinda Pitch & Putt.
He was awarded the "Encouragement Award" at the Greg Norman Foundation (South East Queensland) Awards Ceremony 2012, "Player of the Year" for 2012, at River Lakes Golf Club and "Spirit of Golf for 2012", at Mt Warren Park Golf Club. In 2013, Yevin was awarded "Player of the Year" for 2013 at Greg Norman Foundation (South East Queensland) Awards Ceremony, as well as the "9 Hole Challenge Gross Winner" Award for 2013. He was also awarded the "Most Improved 9 Hole Player" for 2013, at Mt Warren Park Golf Club.
His progression since he was 8-years-old has been commended by his coaches for his exceptional talent and wonderful temperament. Yevin has received many accolades for his mannerisms, politeness and for the way he presents himself on and off the Golf course, even in the company of adults. He has been praised by his coaches for his attitude while playing, as it has been noticed that his body language does not change even while losing, as he keeps smiling, which is the hallmark of a true sportsman. In addition, he has been acclaimed by many over his skills in Golf, his integrity, morals and etiquette.
On the advice of his coaches, Yevin, having shown maturity, started to play in 18 'Hole' Golf courses for his club Mt Warren Golf Club, in latter half of 2014. He immediately showed his prowess, when he won the 1st monthly medal at his club. He was selected to participate at the South Coast Schools Golf Championships organised by School Sport Queensland in 2014. In the same year Yevin was the Under-14 Nett winner at Bargara Golf Club.
Yevin won the 'C' Grade club championship at Mt Warren Park Golf Club with 120 players from young to senior members participated. Incidentally, he was the youngest among those who participated in this competition. He was the recipient of the "Best Handicap Reduction" award at the Greg Norman Foundation awards ceremony held in December 2014. He was a member of the victorious Junior Pennants team at Mt Warren Golf Club, a member of the Golf Queensland Sub Junior team 2015, participated in Golf Queensland Fayde Points Challenge competition and came second in Gross and Nett in 2015, participated in School Championships at Cairns, and was placed 3rd overall for Queensland in 2015, participated in National Championships in New Castle in 2015, best score and overall Nett winner at Wynnum Junior classic 2015, participated in Greg Norman Junior Masters, participated in Adam Scott Junior open and was 2nd overall for 13 and under, selected to play Invincible Match Play at Perigian Spring Golf Club, participating in several tournaments in NSW to Bundaberg (Ballina Golf Club, Ocean Shores Golf Club, most of the Gold Coast junior opens and Sunshine coast Junior Open), selected to play Junior Masters in 2016, winning Under-13 categories at Caboolture, participated in QLD Boys and Girls Amateur Championships at Bargara June 2016, participated in school championships at Yapoon, was 3rd overall and selected to play at Murray Bridge in South Australia, scored 72 at Pacific Junior Classic 2017, while scoring 1 under 70 at Mount Warren Park Golf Club 2017.
His best achievement to date was when he was adjudged Nett Runner-up among 70 school golfers in the Junior Queensland Sport 10-19 Years Golf Championships 2017, held at Toowoomba from July 23-26, which is an annual event since 1978. Yevin, still 13-years-old, had to compete with 19-year-old senior players, a remarkable achievement.
In the above context, Yevin is on course to be a mature Golf player and bring laurels to his motherland Sri Lanka, which he adores. He is a Grade 8 student at Shailer Part State High School, whose ambition is to become an Engineer.