Lankan Cricket's sad destiny
View(s):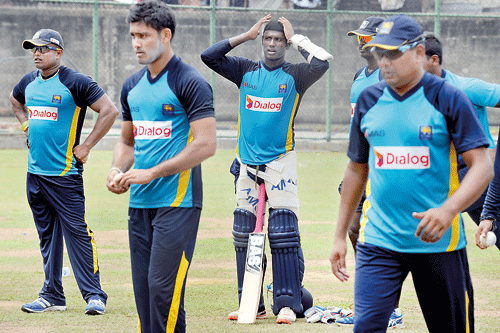 It's hard to believe you are gone at such a tender age. But then, life is cruel and death is certain, untimely at times, it is the fate of all man.
Born in the '80s and re-born in the mid-'90s, you reinvented your style of playing cricket to become the darlings of world cricket, when you beat the Aussies to win the World Cup in 1996.
Since then, you went on to be the Runners-up of the World Cup, albeit some confusion about the loss to India in 2011, win the Champions Trophy, the T-20 World Cup and records tumbled whenever you played. The highest team totals in all 3 forms of the game, the highest individual scores in different formats and so on. Your feats are legendary for such a small country.
All this made you a lucrative venture. Dollars flowed in for TV rights, advertising and you were able to attract big crowds wherever you played your brand of innovative cricket. From Murali's magic to Malinga's slingy action and Mendis' carrom balls, from Sanath's blistering knocks to Sanga's classic strokes and Dilshan's scoops, you were exciting to watch, unpredictable, yet entertaining, to say the least.
Now, you, loved by millions, are no more. Players are rotated like changing clothes in a cheap Bollywood movie, captains come and captains go, faster than the revolving door in a crowded bar –and so do the coaches.
But the administrators, the mandarins of the game, remain faithful to the positions they've obtained by hook or by crook. Obviously, ignorant of who you truly are and the fast changing ground realities, they cling to their positions like leeches sucking blood from you. And now the body is dead.
Miracles do happen, but to seek a resurrection is now beyond the realms of even the supernatural.
All that remains now to be done is to wait a few more months, and then the last rites may be said and the game effectively buried.
Goodbye Sri Lankan Cricket, we loved you and we moan your untimely death in the hands of bandits who robbed you and left your brutally bruised body out for the jackals to prey on.
Sleep well dear friend, you've earned it. So long, farewell and may you rest in peace.
 - from Silly Point- 
 The fiasco -Chief Coach of Cricket India
Dear Sir
The rendition of recent cricketing history should not be written under a ruling hierarchy with purely mercenary intent. While one has to be alive to the changes in the modern cricketing world, it is still in the best interest of the game, if it is divorced from the evil and unfair machinations of those with vested interests.
The sport and its players are reduced to pawns in the power play, to keep self seeking pompous Moguls afloat, who air partisan considerations.
What is pathetic is that, the very players who adorned the sport in the recent past, should seek to create dissension in a well knit team, to covet a position of authority, to the detriment of Indian Cricket.
It is common knowledge that the team was flourishing under the able stewardship and the master touch of the genial but, firm Anil Kumble.
One does not have to extol the virtues of Anil Kumble as a player or person. He stands head and shoulders above many who flaunt themselves. His credentials are impeccable on every count, be it integrity, competence or dedication.
His performances as a coach and man manager have not only been brilliant but sublime too. He richly deserves all the accolades that have come his way in the span of a truly illustrious career.
I am happy that a nation like India which has produced a galaxy of great personalities like Sir C.V. Raman, the eminent Nobel prize winning Physicist, should produce a cricketer of the class and calibre of Kumble who shone on a pedestal all his own. He can be included in such a select band, owing to his intellectual capacity, which is unique.
The coaching job in India has descended to a hot bed of intrigue, which a man of Anil's breed would not relish. Anil is by no means going to be a loser.
He nurtured the team in his inimitable style, which most people around would not be able to match, let alone emulate.
He instilled a brand of decorum and self belief hitherto not seen in the Indian team, and he did it in a humble and self effacing manner, as is his wont.
In conclusion, I should think it would be wishful thinking on my part, if India's loss were to be Sri Lanka's gain with our own cricket management in a quandary, in the matter of a coach for the national team.
Zavahir Majeed