It's a case of ethics and values
View(s):

In 1996, Lance Armstrong, the now-disgraced professional Cyclist, was diagnosed with cancer at 25. He started a foundation devoted to helping others manage their lives on the cancer journey. The Foundation has served millions of people. In October 2012, everything turned upside down for the organisation.

The US Anti-Doping Agency report "concluded once and for all, that Lance Armstrong was guilty of doping during his legendary Cycling career." Doug Ulman, CEO and President of Livestrong Foundation, after the news broke, called a meeting of every one of the foundation's staff, and announced that the organisation could no longer "defend" its founder. It was a defining, watershed moment. The once high-flying charity that had raised half-a-billion dollars over the years, was now facing a crisis of its own: To operate in a "life without Lance". The loss did not matter but, the responsibility of promoting the discredited Lance was not something for which they would sell their souls

In February 2017, a US Federal Judge allowed the govt's lawsuit against Armstrong to proceed. US District Judge Christopher Cooper sided with the federal government, which was suing Armstrong on behalf of the US Postal Service and was seeking damages. The Postal Service sponsored Armstrong's Cycling team from 2000 to 2004 and said it wouldn't have done so, if it had known the team was violating its sponsorship contract by using banned drugs and blood transfusions to cheat. Cooper said, "Armstrong makes a "persuasive case but 'credit' for the benefits he delivered, while using (performance-enhancing) drug, could be viewed as an unjust reward for having successfully concealed his doping for so long,"

On our doorsteps, much has been written, spoken, broadcast or shared in social media about what sports should be. Though the theater in which they spoke was different. Roshan Mahanama and Marvan Atapattu spoke on what sportsmen should aim for, addressing schoolboys. There was a programme on National TV, on the morning of Sunday (24), attended by some prominent sports personalities. There was much stated in the broadcast about the desire to win at all cost, and the incorrect use of supplements that push the athlete with little commitment or, where he is pushed beyond his/her threshold. Most emphasis on the negative usage was directed at Cricket and Rugby. There was a lot to be said about Rugby and the use of substances that would not be good on the long run.

Having listened to the preaching left me wondering as to whom these people are preaching to; that is after the Mercantile 7s Rugby played over the weekend. Here was confirmation of the desire to win and the non-Rugby like behavior after the final. Generally, Mercantile Rugby is a mixed event where some play a sort of community Rugby, while those at Cup championships play a harder, competitive version of the game. This is a tournament where the issues participating are the products of an organizational relationship. They are not issues of a commercial sex worker. But, it was surprising to see schoolboys of four weeks past, playing for corporate teams. I wondered whether a minimum work period was not in place. Thus the much talked of governance, ethics and responsible social behavior flies out of the window.

If players and/or officials of teams attempt to take things upon themselves, as though they were a bunch of common thugs, what is at stake is not just a game, but a whole social fabric. This happened after the Final of the Club championship, where a match official was set upon. His mistake was that he administered the requirements of a technical zone in a tense match, more particularly, when the game went into extra time. This was the Final between Access and MAS Holdings. May be the official was wrong, but in civilised society and in the game of Rugby, there is a way to handle problems.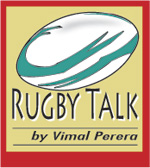 The Match Official, the ST understands, has sent an abuse report, the outcome of which is yet unknown. The official had been admitted to hospital and a police complaint followed. The pressure was on the Match Official to withdraw and/or, come to a settlement. The million dollar question as to who exerted pressure, in an era when we talk of governance. I am told it was people using the name of corporate personalities, those close to politicians and, believe it or not, there were people involved in the sport of a school.
World Rugby suggested sanction indicates of how serious it is to inflict Physical Abuse on Match Officials. The top end is a maximum sanction of a life ban. The fact that an official received injuries that required him to take medical treatment, makes this a case of top end punishment. While the question of a settlement accepting an apology to get away from Police Prosecution does not absolve the players being subject to disciplinary action and a sanction. Writing in this column in January 13, 2013, under the title The 'shape theory' and modern day Lankan Rugby, I referred to the 'shape niyaya' as postulated by lawyer and bureaucrat Charita Ratwatte in a then popular blog .'Shape Niyaya' is a policy which involves taking the line of least resistance, and resolving a matter in dispute, without causing harm to any party involved in the transaction, though the law may be grossly violated." Will the fiasco of the match official assault end the way of "shape machang (brother) shape". When the world is talking of corporate social responsibility and good governance and the schools are expected to take the millennial generation forward, cultivating values that may be in conflict of anything, is good to meet an end. "Father, forgive them, for they don't know what they are doing." when money is involved.