Fazil, Mubeen qualify to clash for title
By M. Shamil Amit
Otter AC Open Snooker Tournament
View(s):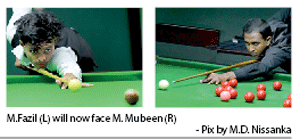 Reigning national and junior national snooker champion M. Fazil of 8BPP and M.M. Mubeen of Army booked the two berths to clash in the final of the Otter AC Open Snooker tournament when they came out victorious in the semi final encounters played at the Otter AC billiards table yesterday morning.
Fazil got the better of M.F.M. Fahim of Sea Endless by four frames to two while Mubeen brushed off the challenge of M. Rikaz of BRC by four frames to one in the seven frame encounter.
However Fazil was given some anxious moments by Fahim who took a 2-0 lead but he came back with vengeance with three half century breaks in the third, fourth and sixth frames to seal the game in his favour.
On the other hand Mubeen had little difficulty against Rikas even though he conceded the first frame as he came out victorious by taking the next four frames with ease to advance to the final.
The final between Fazil and Mubeen to be fought out over nine frames following the third place play off between Fahim and Rikas.
Results
Semi Finals: M. Fazil (8BPP) beat M.F.M. Fahim (Sea Endless) 4-2 (30/56, 21/41, 72/60, 69/26, 66/31, 78/19). M.M. Mubeen (Army) beat M. Rikaz (BRC) 4-1 (46/52, 58/56, 59/10, 73/50).