Back to basics: Marvan hits out at win-at-any-cost philosophy
View(s):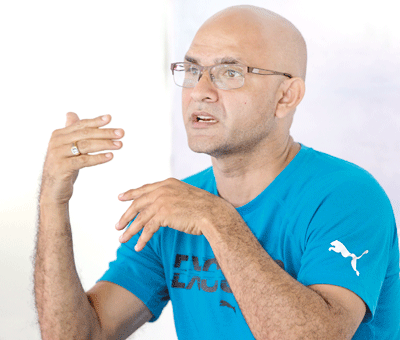 After a break from cricket, former national coach Marvan Atapattu has come back to discuss the "ins and outs" of Lankan school cricket, and is trying see where we have lapsed in our concentration. He did a detailed study on the subject of school cricket, prior to walking on stage to crown the next Schoolboy Cricketer at Nelum Pokuna last week. When he uncoiled the scroll, he found many areas that were gradually slipping away and a unhealthy trend looming over the entire sphere of school cricket in Sri Lanka.
We pointed out that at one juncture, our junior cricket structure was one of the best in the world, even when Sri Lanka was not a full member of the ICC. That was because we had one of the best school cricket structures in the world. But, instead of developing it to greater heights, the system seems to be getting bogged down in an unyielding pattern.
Atapattu opined, "We have slipped away from a very mature and workable system that helped school cricket in Sri Lanka, and are moving towards a system that concentrates more on quantity. In short, we have bartered quality for quantity. Our school cricket has changed over a period of time. It is evident that schoolboy cricketers coming on stage now do not make it to the national team or, get close to being ready to represent Sri Lanka. There are no names that we could pick and say, 'This guy will graduate into the national fold soon."
We pointed out that, in the recent past, cricketers such as Dinesh Chandimal, Kusal Mendis and Niroshan Dickwella have made it good in the Lankan national fold.
In turn, Atapattu explained, "I am just comparing the 10 or 12 initial recipients in the Schoolboy Cricketer of the Year contest. The names included Ranjan Madugalle, Arjuna Ranatunga, Roshan Mahanama, Asanka Gurusinha, Roshan Jurangpathy, Sanjeewa Ranatunga, Kumara Dharmasena, and Muttiah Muralitharan. The two names that came in-between were Peterite Rohan Buultjens and Josephian Rohan Weerakkody. They also were terrific names in the cricketing sphere, though they did not make it to the top. Obviously, the reputation and potential were huge. Yes, the names that you mentioned made good to get on board, and that is what we want by this exercise, to be a healthy competition. A schoolboy cricketer just leaving school and giving competition to an established player in the national team, is never the same. At that time, the names I mentioned did that. They put pressure on established players. When Arjuna Ranatunga walked into the national team, he replaced one of the best all-rounders Sri Lanka has ever produced — Anura Ranasinghe. I don't see that happening in the school's sphere today."
Atapattu continued: "This is the challenge we have today. We have been very successful in popularising the game of cricket. We have over 600 schools playing cricket today. This is a positive development, but, at the same time, quantity against quality is a question now. When you have 600 schools, do they get adequate training? It's not only about coaching a budding cricketer and teach how to hold a bat or, how to deliver a ball, for that matter, how to field a ball. In our days, I am sure it was better. Some of the coaches in the past taught us many things about life and how to build character, disciplines to follow. I don't think the newer generation gets that background in cricket and life."
The former National coach pointed out that one of the main differences in the pattern of coaching was that coaches of yesteryear formed teams with character. Of course, they were there to win but, that was not the main criterion. The process of team building contained much more than a mere match played in the middle. Likewise, the cricketers churned out were a different lot, with a lot of discipline and self assurance. At the same time, almost in every team there were characters. "I remember, Aravinda was chosen to represent DS Senanayake when he was only 13-years-old. There were a lot of eyebrows raised at that time over that selection but, de Silva came up with an unforgettable innings in his first game itself, and that was the end of the resistance.
"I was only 13 when I moved to Ananda from Mahinda, as Ananda, at that time, started from Grade 6 upwards. The junior coach at Ananda was P.W. Perera who had an amazing ability to pick talent. I was given some fielding exercises — I mean high catches — and straightaway, though I was under 13, I was put to practise with the Under-15 boys and, as for me, they were much bigger in size, but I survived in cricket at Ananda."
We pointed out that even at the Schoolboy cricketer award show, it became evident that it was dominated by schools that have little facilities, as against schools like Royal, S. Thomas', Ananda, Nalanda, Trinity and St. Anthony's — schools which are cricketing institutions on their own. These schools are well equipped and their cricket starts from the level of Under-13. They have coaches for every grade of cricket and the monies spent are colossal. Yet, the results against that investment do not get translated into achievements.
Atapattu said: "What I feel at this point is these schools that you mentioned, concentrate mainly on results as a team, and they do not build character as I mentioned earlier. The schools have all the facilities. In the past, it was a case of talent from outstation migrating to the better schools, because of the facilities factor.
"But, what I see is that, the coaches from these schools have set targets and they go in for those results like winning a given tournament or, a big match, so that they will get their contracts renewed before the next season. For instance, a spinner who has a nice loop may not be of use to the coaches' end goal. They will need someone who could tighten up an end with flat deliveries. However, the ideal scenario should be, at the end of every season, if the schools could build at least 2-3 school leavers who are knocking at the door, and pressure the senior folks. Then the result is twofold. While the youngster is getting good exposure, the senior also does not have the luxury of relaxing. They have to be on their toes. They have to keep performing. They cannot keep living in their comfort zones."
Atapattu sees the anomaly lies in improper or unplanned coaching. "To have a good end-result, the schoolboy should have solid basics, whether it is batting, bowling or fielding. I don't see the newer cricketing folk getting these basics on most occasions. Because, once they are mature, it is very difficult to inculcate these things into their practice.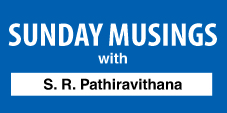 "At the same time, there is a certain section of cricketers who are under the impression that coaching is not that important. They bring the argument of unorthodox products like Lasith Malinga and Ajantha Mendis. But, the truth is, Malinga is a very clever character, he had the ability to adapt with the demand. Soon after he reached the national level, he learned that, with a slight variation of the wrist, he improved his line of delivery. But, on the other hand, Mendis who was also very clever and unorthodox, could not change with the pressures of international demands, and his career was limited. However, if he had good training at the start of his career, he may have been more successful.
"Even in fast bowling, now there are some young bowlers who bowl at 140+ at international level but, Chaminda Vaas who bowled at 135km, was a more successful bowler and, at the same time, he survived for over 15 years in international cricket. That is because he had good basics."
Simply, Atapattu's message was that it is the basics that make the difference. Once a boy has the proper basics, he can only climb higher. It is the duty of the coaches to build cricketers for the national grid, not make up numbers of a playing outfit, which gives his next contract.