Royal in narrow water polo win over Nalanda
View(s):

Royal College had to be satisfied with a 15-8 victory over Nalanda College in their inaugural Royal-Nalanda water polo encounter concluded at the Royal College Swimming Complex last week. Nalanda who took to the sport recently gave the experienced and strong Royalists a hard time in the final two quarters as they matched the Reid Avenue lads in every move.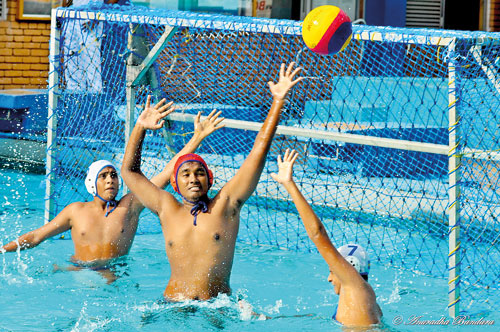 The game got off to a start dominated by Royal. The inexperienced Nalandians failed to read the Royal pattern of play as Royal ended the first two quarters leading 4-1 and 7-3 respectively. Nalanda came into the game in the third quarter with some fine moves but failed at the crucial points due to lack of experience. In the fourth quarter with a hat-trick of goals by Arosh Perera and kept on attacking the Royal goal area. Royal slowed down in attack and went on to defence making Nalanda to make mistakes in the attack.
Royal made use of the Nalanda mistakes and added eight goals to their tally in the last two quarters . They made the final tally 15. On the other hand Nalanda too added eight goals in the process bring their final score eight to lose the inaugural encounter 8-15.
Royal exhibited their class in the water sport to the end and Nalanda would have reduced the victory margin if not for a combination of poor passes and good defence work of Royal saw them unable to get on to the scoreboard in a bigger way in the first two quarters.
Goal scorers for Royal were Isiwaruna de Silva, Dulanjan Fernando, Shamod Edirisinghe, Savinda Dissanayake Dilesha De Fonseka and Mithila Illukpitiya and Arosha Perera, Senal Hasintha, Ranidu Jayatilleke were the main scorers for Nalanda.
– Lakshman Ranasinghe; Pix by Ranjith Perera