Bowling doosras at themselves
View(s):

In February 2013, if I am not mistaken, a meteor crashed down into a frozen lake at Chelyabinsk in Russia, which, according to experts, weighed over 100,000 tons. It is said to be the largest to have hit earth in more than a 100 years. Yes, we do agree that, from time to time, these objects do land at all odd places, which have various repercussions.

Last Sunday, one such meteor landed at the Sinhalese Sports Club grounds, adjacent to Sri Lanka Cricket. This came in the form of an Annual General Meeting which, according to the Sri Lanka Cricket people, came after 12 long years.

I wondered, how on earth the coalition of Sumathipala-Dharmadasa came into power. I am certain, there should have been a General Meeting to vote in the preference of the mandate, and ascertain as to who runs the fate of the game of Cricket for the next four years. Nevertheless, today, the Sumathipala-Dharmadasa alliance is building empires.

Yet, to be doubly sure, I spoke to former SLC Secretary Nishantha Ranatunga about the status quo of past AGMs. He explained, "The then Minister of Sport Mahindananda Aluthgamage was not in favour of Interim Committees, be it Cricket, Athletics or any other Sport. So, once that mechanism of voting in office bearers was set in place, there were people getting elected at General Meetings, as there was no necessity for expensive exercises of this nature. Just see, for this 'thamasha', it is said that, around Rs five million was spent. This is mainly to pass the previous year's accounts. I remember, our expenditure for General Meetings to select new members, was limited to around Rs 200,000."

However, reading between the lines, I smelled something funny in this hocus pocus situation. When things become too open and too shiny, they say there is always a rat in the cupboard. I smelled a rat in the Sri Lanka Cricket Asset Management (Guarantee) Ltd.

A member who went through the rigours of sitting through the proceedings, last Sunday, was impressed. He said, "On face value, this looks impressive and futuristic but, my only concern is how they are going to implement it and who is going to man the new company? Are there any hidden agendas?."

I too, kept my mind busy. First I thought, at present, the ExCo and the Sri Lanka Cricket is bad enough but, when this becomes three entities, how is it going to function. Where does the ExCo slot in? Under this scenario, what will be the functions of Ashley de Silva & Co. and what would be the overlapping areas?

Some of the whereases in this document reads – "AND WHEREAS, the ExCo has considered forming an Asset Management Co. (AMC) for the better management of the real assets of SLC, including, inter alia, the stadia owned by and/or leased to SLC and/or its members;"

"AND WHEREAS, for that purpose, the ExCo has retained the services of professional advisory firm KPMG, and they have, pursuant to a high level study of the assets and financial position of SLC, presented several options for the restructuring of the assets of SLC, including options to form the AMC."

Now the whole scenario becomes a bit tricky. With the formation of the new company, a whole lot of "What's" are bound to surface and they are becoming sticky. The whole episode may turn into a fiasco, where there would be more questions than answers.

1st Question: Under the prevailing constitution, could a Sports body, under the purview of the Sports Ministry, constitute a private liability company, especially, to control its finances? Then, if so, the Rugby, Athletics and, may be, the Hop Scotch Federation of Sri Lanka, could form similar institutions. Then, what would be the Sports Minister's role under these circumstances?

An insider explained, "The whole exercise of this move is to take control away from probing eyes. If the Private Company has its own set of Directors who are not bound by Sports Ministry scrutiny, they would be a law unto themselves. Then, even if there is a change in the ExCo membership, Asset Management Company will have control of the finances. Then, under those circumstances, who would want to hold office in a setup of that nature? At the same time, would AMC's accounts be audited by the Auditor General or, would it be a private company who would cook-up the figures? Could this come under the scrutiny of COPE? Yes, some time ago, there was a similar move by the same entrepreneurs, may be in 2001 or '02, but, at that time, people of authority and past cricketers opposed it, and the then Chandrika Kumaranatunga government stopped it.

"But now, the circumstances are different. Now, Thilanga Sumathipala is a part of the present government and the Sports Minister is a parliamentary colleague within the same government. So, there may be less resistance to this kind of move."

Fortunately, even Sports Minister Dayasiri Jayasekera is also alert to the situation. He has directed SLC to forward this proposal to the Attorney General, for his scrutiny, in earnest. At the same time, the other point is that, he is also concerned about the term of office for those who will man AMC?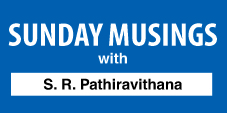 Now it is said the Attorney General had requested to get the approval of the membership and amend existing constitution and it was done at prior to the SLC party last Sunday.
Now they are in the process of preparing a cabinet paper which would be submitted for approval through the Minister of Sports shortly.
For the Sumathipala-Dharmadasa alliance, this would be a great venture, if it succeeds. If the pawns are in the right squares, definitely, they are in for a kill.
But, there are questions sprouting. It was only the other day SLC screamed they had made a profit of Rs 200 million. But, last Wednesday, two Sri Lanka Cricket stalwarts were at Bank of Ceylon, looking for a Rs 250 million overdraft for their sustenance. May be, they could have settled for a Rs 245 million overdraft, if they did not splurge Rs 5 million on last Sunday's 'thamasha'.