Jaswar Umar appointed International Match Commissioner
View(s):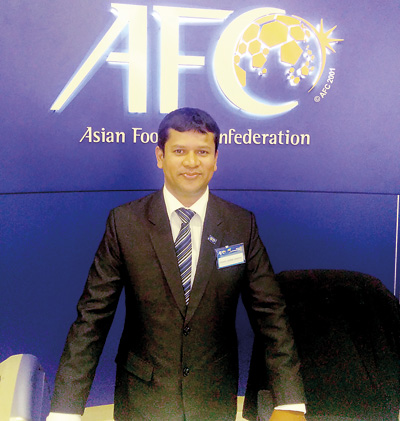 Sri Lanka Football reached a remarkable milestone when Jaswar Umar was appointed an International Match Commissioner. Umar, the incumbent elected Deputy General Secretary has successfully gone through the match commissioner examination held in Kuala Lumpur, Malaysia in December 2015 and at present he is appointed as a Match Commissioner of the Asian Football Confederation (AFC).
Candidates from 47 countries faced the examination with the top six standing a chance of earning the prestigious appointment. Among the six candidates selected, Sri Lankan Umar secured a slot.  Umar was a top football referee with 20 years of experience under his belt prior to changing his path as a football administration. He was elected to the position of Deputy General Secretary of the Executive Committee at the Annual General Meeting of the Football Federation of Sri Lanka in May 2015. He is also a top Regional Referee Instructor recognised by FIFA and AFC.
"It's a very proud moment for me and an honour to make my country proud with this achievement. I will continue to do my best at the international arena and prove that Sri Lanka is capable of producing top football officials," Umar stated.
FFSL President Anura de Silva and the Executive Committee praised Umar's remarkable achievement with a great sense of pride.