Under the spell of glam and hypnotism
By Duvindi Illankoon
View(s):
Whether you believe in hypnotism or not, Alan Bates' Colombo show would have had you captivated. Eight people were chosen (as volunteers) from the audience to assist Bates on stage-by which we mean consent to be hypnotized and step in as the evening's source of amusement.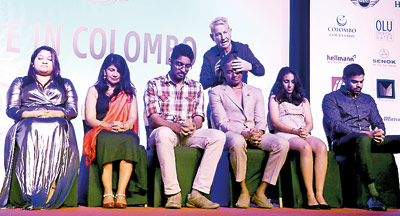 Organised by Colombo VIP Night, the show took place at the Hilton Colombo Grand Ballroom on January 12. Bates is a 'comedy hypnotist', which meant his hypnotism show was presented in a comedy format.
Bates has an interesting history in the field of hypnotism-he was a DJ/Presenter in England before discovering the practice in the States, returning to UK to study psychology and build his own show using the medium of comedy to reach audiences.
The show started quite late-around 9.30 pm- as dinner was served to the guests before the show.
In the meantime designers from Buddhi Batik, Indi, Koca, Olive Couture, Ramona Oshini, Aslam of Gee Bees and Ramzi presented striking one off pieces especially designed for the evening.
Bates began his show by asking his audience to engage in a moment of guided meditation, following which he called for volunteers.
Eight of these volunteers were called on stage, and for the duration of the show they were hypnotised to carry out a variety of deeds, including playing an imaginary piano, forgetting a crucial piece of information and even believing they'd won the lottery.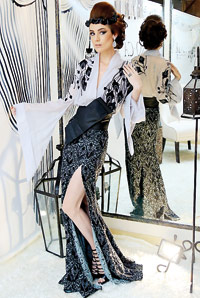 Bates was a genial host, always respectful of the participants' wishes. Our only gripe was the delay in start-as most people had to leave two thirds of the way into the show. It was still an evening of entertainment, however, and that Bates delivered.
The charity dinner show was in aid of Sooriyawewa Weliwewa Pradeepa pre-school to help construct a building and provide related school equipment.