Kala Pola with added attractions will hit the road
By Kaveesha Fernando
View(s):
'Beauty is in the eye of its beholder'. This is the concept on which Kala Pola has operated for the past 22 years and it is the basis on which they will hold their annual fair once again this year on Sunday, January 31.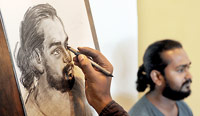 An event where anyone can display and sell their art, the organisers of the event believe that they should let the patrons decide who is 'good' and who isn't.
The only open air art fair in Sri Lanka, Kala Pola draws people who do not usually visit galleries mingling with admirers of art in order to create a unique atmosphere full of possibilities for artists to sell their work.
The event is organised by the George Keyt Foundation together with the John Keells Group and is evidence of their commitment to developing Sri Lankan art.
Entrance to the event is free of charge. The organisers are happy to announce that following the success of their trial booklet last year, they will be compiling a comprehensive booklet this year with the contact details of the artists.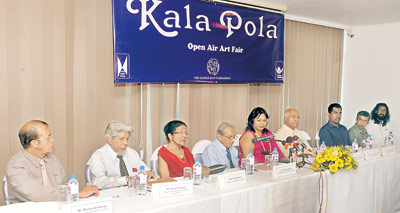 Kala Pola expects over 300 artists this year. The booklet will be an excellent opportunity for artists to market their work even after the event is over.
Additionally, the curators of an international chain of galleries have also expressed their interest in attending the event to add some Sri Lankan art to their collection.
So head to Ananda Coomaraswamy Mawatha Colombo 7 from 8 a.m. till 9 p.m. on January 31. The artists will also be selling their work on www.srilankanartgallery.com.