Letters
View(s):

Don't let politicians tinker with new Constitution

Every citizen irrespective of racial, ethnic or religious differences should feel this is his/her country where he/she has equal rights and faces no discrimination in any form.

The equality of all Sri Lankans must be ingrained in the new Constitution.

We can boast of a history of reform proposals or drafting of new Constitutions spanning over 180 years that taught us lessons in the intricacies of formulating constitutions.

In 1833 Colebrook-Cameron for the first time proposed reforms to please the desires and aspirations of the British Colonial administrators.

In 1912, Crewe-MacCallum after a lapse of 79 years proposed a Legislative Council with members who were non representatives of the people.

Following a short lived constitution in 1921-1924 by Governor Manning, came the Manning reforms that governed the nation from 1924 to 1931.

In 1931 the Donoughmore reforms granted universal franchise and a State Council replacing the LC which lasted till Independence.

A Constitution drafted by Sir Ivor Jennings based on recommendations by P. E. Ramsbotham [Lord Soulbury], provided dominion status and Independence.

This lasted till 1972, with many features of the Westminster model incorporated in it. The reforms supported good governance; democracy and though it had shortcomings, lasted through the first three decades of Independence.

The constitution or the supreme law of a nation should prevent politicians from acting according to their whims and fancies causing harm to a country's democratic frame-work.

I believe this can only be achieved by the setting up of an institution with the initiation of civil society.

This process has to be strengthened with a broad spectrum of intellectual forums with the participation of both the professional and non-professional categories, artistes, and civil society groups.

Once a draft is ready, it should be submitted for debate and the usual parliamentary procedures for legal validation.

The constitution should contain clauses to constrain parliamentarians from attempting to tinker with it at a future date for their own personal benefit.

It was Charles de Gaulle who said, 'Politics is too serious a matter to be left to the politicians.' Entrusting the responsibility of a new constitution to politicians alone would lead to a clash of interests.

The constitution needs to be powered by safeguards that would prevent legislators from taking retrospective action; misuse the overwhelming majority to invalidate or reverse a decision of the judiciary.

The judiciary should have the freedom to intervene, interfere and mediate in cases of violation on legislative authority by Parliament on their own or application by any citizen.

The forum must ensure that no religion is given favoured treatment over others; for that matter all religions and religious practices should be left to the individual freedom granted to any citizen without state involvement.

The framers of a new constitution should be guided by the past lessons. It should not be formed with private interests taking priority over national interests.

The 1972 constitution formulated by politicians contained several undemocratic elements in it in spite of highly competent legal and political leaders being involved in the drafting process.

As a result of JR's push for, to say in his own words, an "effective system of governance through the establishment of an executive presidency", the 1978 constitution saw the authoritarian features improved by many folds.

When Chandrika Kumaratunga, attempted to introduce a new Constitution in the House, the then opposition teamed up to disrupt the proceedings. The repetition of such an event once again should be avoided at any cost.

K. K. S. Perera
Panadura
---
I'm sure this will remain the faux pas of the year!
I read with great interest the Talk At The Cafe item, " Indo-Pak pun " on page 2 of the Sunday Times of January 10.
I am sure it will remain the greatest diplomatic faux pas of the year !
The so-called Foreign Ministry big wigs should have known the basic fact that India and Pakistan are arch enemies and therefore, to be extremely careful not to embarrass/humiliate a visiting dignitary of either country at the expense of the other – in this case a Prime Minister.
If it was not their ignorance, then I take it as the MEA big wallahs taking the opportunity to give a good slap to the visiting dignitary.
I convey my heartiest appreciation to the reporter, the shutterbug and all the others who were involved in bringing this episode to the notice of the general public.
For sure, the Indians must be gleefully rejoicing for humiliating the big man of their arch rival.
D. Samaranayake
Battaramulla
---
The actress involved in Sir John saga was Begum Para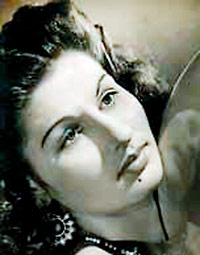 This is in response to Tassie Seneviratne's article titled, 'Bliss it was when public shows were for the family' appearing in the Sunday Times 2, of January 10.
If I remember right, the actress involved in the saga was, India's first sex symbol Begum Para, Bollywood's glamour girl of the 1940/50s and not Nargis. She was the first Bollywood pin-up girl to do a bold photo shoot.
Nargis, was associated with Raj Kapoor, the late Bollywood legend and in fact, the two came to Ceylon in the 1950s and stayed in the Galle Face Hotel, I believe in the same room.
Begum Para came to Ceylon, to participate in a carnival cricket match involving cinema artists, when Sir John was the Premier.
Sir John and Begum Para were depicted in a cartoon appearing in a newspaper, under the heading "Paniheliye Ambalaya". I do not know how Sir John reacted, but he would have definitely laughed it off.
D.P.Jayasinghe
Kesbewa
---
Many important lessons in Prof. Ratnatunga's fight against stroke
I was touched and impressed to read the article titled 'My Story' by Professor Channa Ratnatunga, a skilled and dedicated surgeon, in the Sunday Times of January 3, 2016.
His recent illness was unfortunate but we can draw important lessons from the way he has come through this illness.
Lots of lesser mortals afflicted with a sudden massive stroke of this nature may have become bitter over their misfortune and said 'why me?'. Some others may have become depressed.
However Prof. Ratnatunga has borne this misfortune with great courage and fortitude. He has cooperated well with his doctors and therapists. He blames no one.
What is more important he tries to make use of his misfortune to canvas for the setting up of more stroke units in the country so that in future people who are afflicted with strokes of this nature would be able to make a recovery as good or better than he did.
He tries to make a triumph out of adversity. Similarly we should always try to learn a lesson and do something good of any unfortunate occurrence we may undergo.
I hope he continues to make further progress in his recovery.
Dr. V.P. H. Rajapakse
Kandy
---
Some points to get traffic moving
I would like to add few more points to the letter on traffic congestion by Ainsley de Silva in the Sunday Times of December 6.
It would help if there are colour lights at every important junction so that traffic will automatically get controlled. The Police should leave them alone and the timings of the light could control traffic flows at different times.
All pedestrian crossings should have colour lights
Most drivers do not know the procedure when turning right or left. They cut corners. Police should make a note of such drivers and should direct them for retraining.
As most roads are carpeted road surface markings should indicate yield markings such as 'give way' , 'main road ahead'.
Every driver must keep up with the traffic flow. If not the driver or the vehicle should not be driving in town traffic. I am certain this aspect is looked at when having the driving test.
Police should ensure that drivers adhere to the rule at Box Markings. Namely not to enter the boxed area if there is no room in front of the box.
D.P.Y.Abeywardhana
Nawala
Letters to the Editor
'Letters to the Editor' should be brief and to the point.
Send them to:
'Letters to the Editor
'The Sunday Times,
P.O. Box 1136, Colombo.
or editor@sundaytimes.wnl.lk.
Please note that letters cannot be acknowledged or returned